Major currencies ended the week higher. Cable locked in the steepest gains against the dollar ( 2.24%).  The euro fared slightly worse ( 1.04%), as did the Swiss franc ( 0.73%), the Aussie ( 0.48%), the Japanese yen ( 0.21%), and the Canadian dollar ( 0.04%).  The New Zealand dollar was the sole underperformer (-0.19%).  Market players opted for profit-taking on short positions in the greenback ahead of the weekend.
The EURUSD pair closed with a decline of 0.60% on Friday, July 31. The euro dropped to 1.1762 during the US trading session. Overall, the US currency sank 4% in July.
The dollar index (DXY) has been in retreat for 22 days without deep pullbacks. Depreciation in the US dollar picked up momentum after the approval of the Eurozone rescue plan for the member countries hardest hit by the COVID-19 pandemic. After that, the dollar came under additional pressure from downbeat macro releases and an upsurge in the coronavirus infection rate stateside.
Notably, US Gross Domestic Product (GDP) plunged 32.9% YoY in Q2, the sharpest decline since the Great Depression. The University of Michigan's consumer sentiment in July slipped to 72.5 from an initial 72.9. US consumer spending increased 5.6% in June, while consumer income slid 1.1%. Spending was expected to grow 5.9%, while the decline in income had been anticipated at just 0.8%.
US President Donald Trump made a bad situation worse. On Thursday, he floated the idea of a November election delay.
On Friday, the US Congress failed to forge a consensus on the terms for extending the emergency relief plan for the economy and households. Thus, the bipartisan negotiations remained deadlocked by the end of the weekend.
Today's macro agenda (GMT 3) 
03:30 Japan manufacturing PMI (July)
04:00 Australia M1 inflation data (July)
04:45 Caixin China manufacturing PMI (July)
10:30 Switzerland CPI (July)
From 10:30 to 16:45 July manufacturing reports are scheduled for release in Switzerland, France, Germany, the Eurozone, Britain, in at 16:45 in the US
17:00 US July ISM manufacturing PMI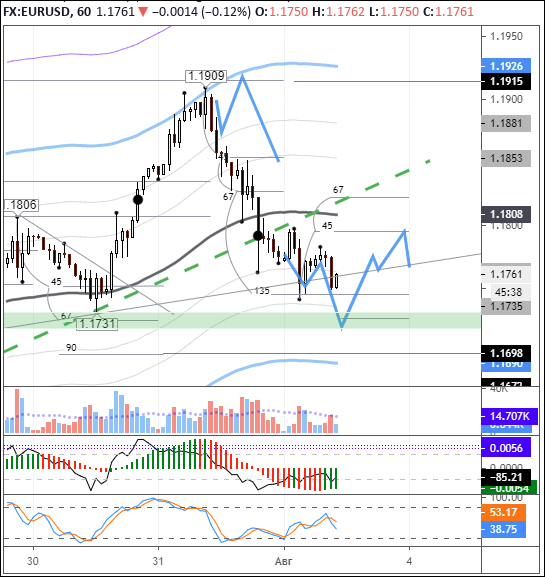 Current situation
The price action bounced off the 180th degree and U3 MA line (the median line with a period of 55 1%). It took buyers 18 hours to get back to 1.1741. As of the time when this overview was being written, the euro was trading at 1.1750.
The trendline was breached. Traders are currently battling it out near 135 degrees. This is a formidable support level, and in line with our forecast, we expect the 1.1725 mark to be tested. We are certain that many traders have seen a head pattern shaping up, so the bears will attempt to muster a downward push in order to create a horizontal neckline. In this case, a triple bottom will form when a low is reached at 1.1741. In case of a sharp rebound off the 1.1725 mark, the pair could spike higher to 1.1900.: