On Monday, August 3, the euro traded slightly in the red. Buyers managed to pare most of their losses by the close. The EURUSD pair pulled back to 1.1696 amid weakening of the Australian dollar and the partial closure of long positions after a protracted rally.
The Australian state of Victoria has declared the state of disaster and imposed tough new lockdown measures after a surge of coronavirus infections. Restrictive measures, including a curfew in Melbourne, will remain in effect in the state until at least September 13.
On the macro front, ISM manufacturing index came in better than expected. According to the Institute for Supply Management (ISM), the July reading of the manufacturing index rose to 54.2, up from 52.6 in June. The index was forecast to total 53.6. Positive sentiment towards risky assets remains in place.
Today's macro agenda (GMT 3) 
02:30 Japan CPI for the Tokyo region in July
04:30 Australia balance of trade and retail trade for June
07:30 Australia RBA interest rate decision and the regulator's accompanying statement
12:00 Eurozone PPI for June
17:00 US factory orders for June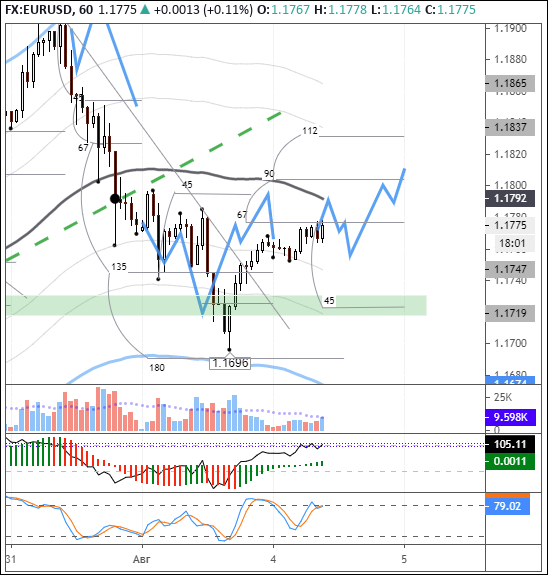 Current outlook
On Monday, EURUSD bounced off 1.1696 not as a V-shaped pattern, but rather as a tick mark. This move came broadly in line with expectations.
At the time when this overview was being written, the euro was trading at 1.1769. The price action experienced a correction at the 67th degree. In order for buying to step up in the euro, the price will need to gain a foothold above 1.1804. Resistance levels are the balance line (1.1791) and the 90th degree. (1.1804). Notably, a decline in US 10-year bond yields could stoke bullish sentiment.
In order for sharp fluctuations to occur, we will need to see a fresh batch of news on the Covid-19 vaccine, the US economic relief package, and US-China relations. Investors currently await resolution of the saga on the new stimulus plan, which is still being hotly debated among US lawmakers.
As for China, the US appears to be doing its utmost to torpedo the trade deal. Secretary of State Mike Pompeo stated on Sunday that the Trump administration will announce measures over the next few days targeting a "broad range" of Chinese software companies that turn over data directly to Beijing, and which pose a threat to US national security.
In line with our forecast, we expect to see EURUSD dip slightly and then resume its ascent to 1.1811.  Should the dip fail to take place, the pair could climb to 1.1831 (112th degree).