Major currencies showed mixed dynamics heading into the weekend. The British pound (-3.64%) was hit with heavy losses against the US dollar. Minor losses were seen in the Canadian dollar (-0.86%) and the New Zealand dollar (-0.78%). Increases were notched up by the Australian dollar ( 0.02%), the Japanese yen ( 0.07%), the euro ( 0.07%), and the Swiss franc ( 0.49%).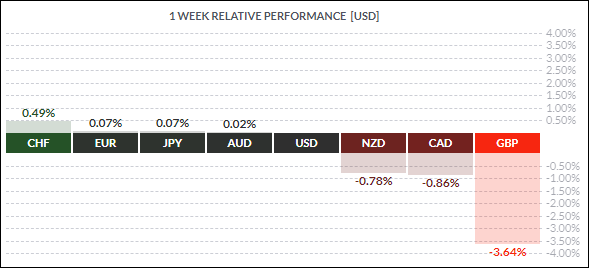 The price action moved slightly higher on Friday. The euro rose 0.25%, up 0.07% to 1.1843 on the week. After an unsuccessful attempt to reach the 1.1918 level, the price fell back to the balance line.
Geopolitics took front and center stage for the euro and the pound sterling last week. The pound sold off across the broad amid tense Brexit negotiations. In order for an agreement to be reached, Germany asked Britain for concessions, whereas British Prime Minister Boris Johnson insisted that the EU countries agree to his terms of the deal. He said that if the current differences were not settled by October 15, the UK would 'move on' without a deal.
In an article published in The Daily Telegraph, British Prime Minister Boris Johnson accused the European Union of threatening to tear the UK apart. And while the situation remains tense, a spokesman for the UK negotiating team told Reuters that the Brexit talks this week could be more constructive than anticipated.
Major US equity gauges traded lower near the end of last week amid retreating tech and energy stocks. The market came under pressure from economic recovery fears.
Today's macro agenda (GMT 3)
12:00 Eurozone: industrial production (July)
Current outlook
Market expectations were fully justified on Friday. The price rallied to the 45th degree of the Gann angle and then retraced to the balance line at 1.1827.
The euro ticked up to 1.1854 in Asia trading this morning. Equity indices have been driving the morning gains. News broke over the weekend that AstraZeneca has resumed its coronavirus vaccine trial that was halted last week after an unexplained illness in one of the volunteers. Perhaps this news became the driver for major currencies. The strongest gains today are being seen in the New Zealand dollar, up 0.49%. The euro has been moving marginally higher as most euro crosses are trading in the red after last week's gains.
In line with our forecast, the price action could rise to 1.1890, followed by a drop to 1.1845. It is a matter of concern that markets have so far brushed aside the second wave of the coronavirus pandemic. However, Austria, the Czech Republic, and Israel have already made official announcements regarding the onset of a second wave.
Notably, the TikTok saga remains on investors' radar. According to media reports, Chinese authorities are opposed to a forced sale of the app and would rather close the sale in the US.