EURUSD locked in gains on Thursday, September 17.  The single currency moved up 0.28% to 1.1848 against the US dollar. Buyers left a long shadow within a range of up to 0.67% (78 points).  The body of the daily candlestick stood at 0.28% (32 points).
Heightened activity was seen in all sessions. Asian players pushed the pair down to 1.1738 after the dollar appreciated on Wednesday. The dollar staged a show of strength following the FOMC meeting.
Cable retreated sharply on Thursday after the BoE reported that the mega-regulator spoke out against the effectiveness of negative interest rates, but might still opt for this course of action if necessary.
Later the pound pared all losses, retracing to a high at 1.2999. One can only guess at the reason why a reversal occurred at 180 degrees of the Gann angle. It may have been due to weakening of the dollar at the opening of European trading sessions or to a statement by EU Commission president Ursula von der Leven. In a state of the union address to the European Parliament, der Leven said that a Brexit deal could still be reached with the UK, but with every day that passes the chances of such an agreement are fading.
As the Democratic presidential candidate, Joe Biden decided to zero in on this issue. He threatened to veto a transatlantic trade deal if Prime Minister Boris Johnson breaks his Brexit deal with the EU.
Today's macro agenda (GMT 3)
Eurozone 11:00: budget balance (July)
15:30 Canada: retail sales (July) and new house prices (August); US: budget balance (Q2)
17:00 US: University of Michigan consumer sentiment (September)
20:00 US: Baker Hughes weekly oil rig count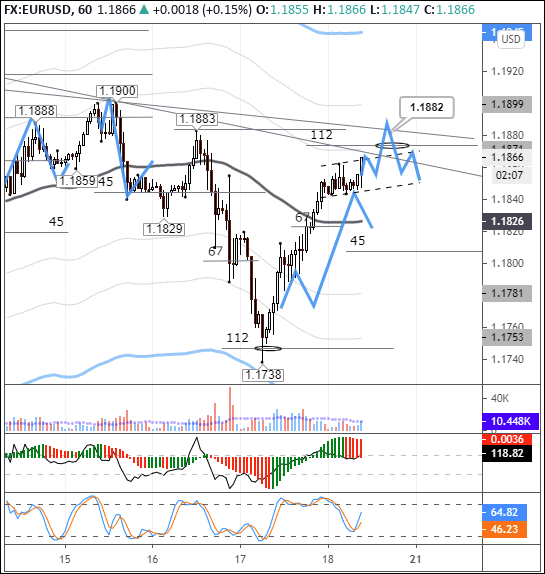 Current outlook
Our expectations for strengthening of the euro were fully justified. The price action rose to 1.1840 even sooner than we expected.
At the time of writing, the euro was trading at 1.1860. Major currencies have been trending higher against the US dollar. Given that virtually all euro crosses are trading in the green, we expect to see the single currency head for the range of 1.1880-1.1885. If buyers succeed in breaching the 1.1890 mark, EURUSD could climb as high as 1.1940 (U3 line). That said, we are looking for a downward correction to break out after 14:00 (GMT 3).
No market-moving macro data are due out today.