Major currencies showed mixed dynamics heading into the weekend. The Japanese yen ( 1.52%), the New Zealand dollar ( 1.28%), the pound sterling ( 0.93%), and the Australian dollar ( 0.10%) all moved higher against the US dollar. Conversely, a decline was seen in the euro (-0.05%), the Canadian dollar (-0.19%) and the Swiss franc (-0.28%).

By the end of Friday, EURUSD dipped 0.09% to 1.1826. The price action was locked in a side trend throughout the session. After an unsuccessful attempt to break out of intra-day highs, the key pair fell back from 1.1869 to 1.1831. In euro crosses, buying sentiment shifted unexpectedly, as a result of which the euro slipped 38 points against the US dollar.
Market sentiment continued to be adversely impacted by concerns about an upturn in coronavirus infections and a tepid global economic recovery. The pair rose to 1.1870 before the close of the European session. The growth stalled at this level as buyers retreated to the 1.1836 level on the back of thin volumes.
Notably, Europe set a record on Friday, September 18 for the number of new cases detected in a single day – 79,776. The upsurge in Covid-19 incidence was attributable to increased testing rates. Meanwhile, Austria, Denmark, Spain and Israel tightened pandemic related restrictions.
Today's macro schedule (GMT 3)
13:00 Germany: Bundesbank monthly report
15:30 Canada: new housing price index (August); US: Chicago Fed national activity index (August)
15:45 Europe: ECB president Lagarde speech
17:00 US: Fed chairman Powell speech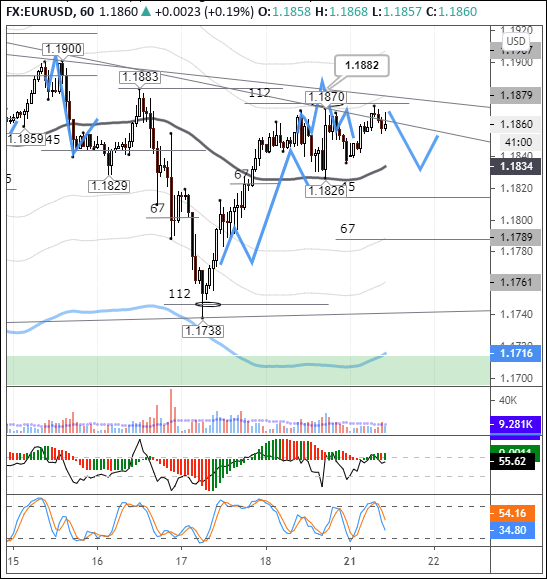 Current outlook
Trading opened with a decline in the dollar on Monday, September 21. The US currency retreated across the board against all currencies. The biggest gains were seen in the New Zealand dollar (0.31%) and the pound sterling (0.30). At the time of writing, the Kiwi was trailing the Aussie ( 0.39%), while the price action for the latter shifted to the 3rd line, with a gain of 0.29%.
It looks as though the New Zealand dollar set the tone for trading. The gains were triggered by news of a decrease in the country's coronavirus alert level. New Zealand's Prime Minister Jacinda Ardern has pledged to ease quarantine restrictions and switch to alert level 1 on September 22. In addition, Auckland will move to alert level 2 on September 22.
EURUSD climbed to 1.1872 in Asian trading this morning. The price action came up against the resistance level of two trendlines and the 112th degree of the Gann angle. European stocks opened in negative territory and will put pressure on buyers. Given that today is Monday and the price action is hovering near the 112th degree, in line with our forecast we expect a decline to 1.1830. Players should also be prepared for a drop in the euro to 1.1815 (45th degree).