The EURUSD pair traded higher on Monday, October 5. The single currency jumped 0.57% against the US dollar to 1.1781. The gains were fueled by demand for risk assets, which gathered steam after US president Donald Trump tweeted that he was going to be discharged and sent home.
Risk appetite improved during the North American session amid optimism that US lawmakers will reach an agreement on measures aimed at mitigating the economic impact of the coronavirus.
EURUSD pushed higher in all three major trading sessions, reaching an intraday high of 1.1798.
Today's macro agenda (GMT)
8:30 UK: house price index (September)
8:35 ECB head Lagarde speech
12:30 Canada and US: trade balance (August)
13:00 ECB head Lagarde speech
14:00 US: consumer credit change (August)
14:40 US: Fed chair Powell speech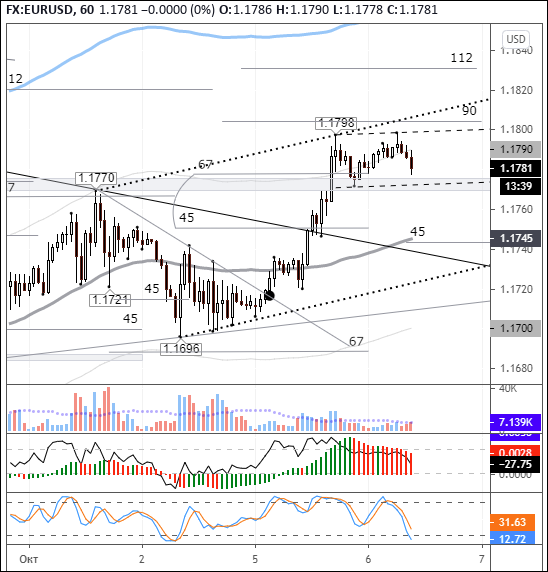 Current outlook
US president Donald Trump is back in the White House. He aims to make a full recovery in time for the next debate with Democratic candidate Joe Biden, which is scheduled for next week (Thursday, October 15).
Biden is currently 14% ahead of Trump according to the latest poll by The Wall Street Journal and NBC broadcaster.
Trump's discharge from the military hospital is already priced in, but the warning from the chief US infectious disease specialist, Anthony Fauci should not be taken lightly. Fauci said that a turn for the worse in Trump's condition should not be ruled out.
The key pair rose to 1.1798 in Asian trading. At the time of writing, the euro is hovering around 1.1779. On Monday, buyers managed to overcome horizontal resistance at 1.1770, retesting this level from the top.
Theoretically, we should now consider the possibility that gains will be extended to the 112th degree of the Gann angle at 1.1831. Yesterday the price action got a boost from the news flow, with the market winning back the losses incurred on the news that Trump contracted Covid-19. At this point, we have every reason to believe that until it becomes clear whether or not a no-deal Brexit is in the cards, we should not expect the single currency to lock in major gains. Furthermore, given that the US presidential election is scheduled for November 3, we expect to see heightened volatility until the end of the month.
The euro bears are currently pushing towards the 1.1770 support, which was yesterday's resistance. Many players believe this level will not hold, and the decline will pick up momentum to 1.1743 (45th degree) and 1.1750 (balance line, MA55). If the selling trend prevails, their target will be 1.1733 (lower channel line). There are two target levels that could kick in for buyers: 1.1804 and 1.1831.
Uncertainty might come from today's speeches by ECB head Christine Lagarde. She is scheduled to speak at 8:35 and 13:00 GMT. At 14:40 GMT the Fed chairman Jerome Powell will deliver a speech. It is not known whether these speeches will address monetary policy or not.