The EURUSD pair traded to the upside on Wednesday, October 7. The euro gained 0.23% against the US dollar to close at 1.1760. Buyers pared 60% of the drop from 1.1808 to 1.1725.
On Tuesday, US President Donald Trump abruptly broke off stimulus talks with the Democrats, triggering a flight from risk assets amid a rallying US dollar. On Wednesday, Trump said he was ready to sign off on a limited number of stimulus measures. Congress did not drag its feet this time around and put the government bills to vote, including an aid package for airlines. This move exerted a positive impact on all currencies as well as stock indices.
Major US equity benchmarks closed about 2% higher on Wednesday. The S&P 500 index completely erased earlier losses. EURUSD stabilized at 1.1765, while GBPUSD hovered at 1.2925.
Today's macro agenda (GMT 3)
12:30 SNB Jordan speech
15:15 Canada: housing starts (September)
15:30 US: initial jobless claims; Canada: BoC Macklem speech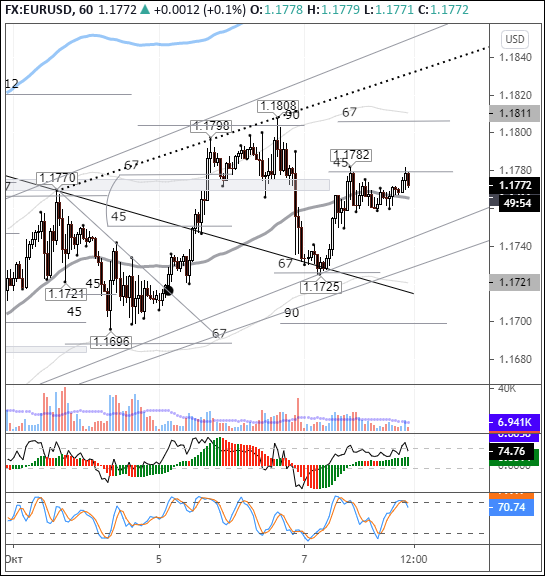 Current outlook
The price action retraced 45 degrees from the 1.1725 low and is currently hovering around the balance line. After 17 hours of consolidation, buyers might be ready to go on the offensive. If they hesitate, it will turn against them.
The market is starting to price in Trump's defeat. Recent polls point to a growing lead held by the Democratic presidential candidate Joe Biden. If Trump loses, the Democrats could take control of the US Senate. In that case, the Dems would have their hands untied and start passing their bills that were struck down by the Republicans.
In line with the upward movement from the 1.1612 low, buyers have set their sights on the 67 degree-line of the Gann angle, at 1.1806. If support does not hold at 1.1755, selling pressure will gain momentum. The coronavirus pandemic still remains a key issue for the market to grapple with. Over 300,000 people are infected every day in the world. In Russia, the infection rate is approaching the May high of 11,656. Worldwide, 36 mln people have been infected with the virus. Experts predict an upsurge in the global figure to 90 mln. This number looks frightening as many economies may not survive a second wave of the pandemic.
Stateside, equity index futures are trading in positive territory, while the euro continues to grind upward. If the key pair does not move higher during the European session, and the price action remains locked in a side trend, we can expect to see EURUSD lock in gains during the North American session.