The EURUSD pair traded broadly higher on Monday, October 19. The euro climbed 0.48% against the US dollar to 1.1769. Market participants opted to ditch the US currency in anticipation of an elusive new coronavirus stimulus deal that remains subject to bipartisan wrangling. House Speaker Nancy Pelosi set a 48-hour deadline for the White House to reconcile the remaining unresolved differences.
The euro drew additional support from ECB President Christine Lagarde, who spoke about the need to preserve the EUR 750 bln European recovery fund as a permanent tool. On this news, players bought into the euro against the British pound.
The key pair rose to 1.1794 during the North American session. Growth stopped just shy of the 90-degree line against the backdrop of retreating stock indices. Major US equity benchmarks posted losses ranging from 1.44% to 1.84%. The market came under pressure from expectations that a new stimulus package would not be passed before the presidential elections.
Today's macro agenda (GMT 3)
11:00 EU: ECB current account (August)
15:30 US: housing starts and permits (September)
16:00 US: Fed Williams speech
17:50 US: Fed Quarles speech
20:00 US: Fed Evans speech
22:00 US: Fed Brainard speech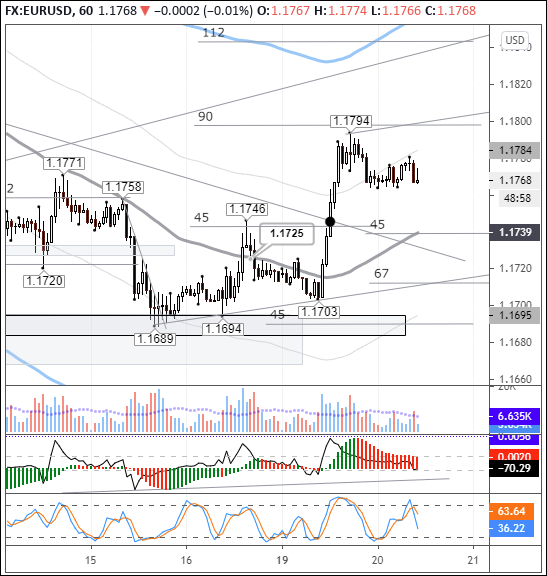 Current outlook
The dollar has been showing mixed dynamics in Asian trading on Tuesday, October 20. Sterling and the euro are trading slightly in the green, while other major currencies are in the red. The Australian and New Zealand dollars are both down about 0.5%. These are risk-sensitive currencies, so as soon as the flight to defensive assets begins, they usually take it on the chin.
As regards the EURUSD pair, buyers easily broke out of the upper trendline at 1.1831. Growth has slowed down near the 90-degree line at 1.1798. Euro crosses are all positive. Positive cross-pair dynamics should allow buyers to stay above 1.1760, but does not guarantee complete protection.
In political news, the Democrats are looking to allocate $2.2-2.4 trln for the stimulus package, while the Republicans are shooting for $ 1.9 trln. It remains to be seen whether or not the Democrats will accept the Republicans' offer.
With support from crosses, the euro may retrace to the 1.1785-1.1802 range. Further gains look questionable due to the coronavirus and Brexit-related uncertainty. Knowing American politicians, one may assume that the risk of failure in the stimulus talks and depreciation of the euro to 1.1720 will remain in the cards. The first support will be 1.1739 (45-degree line).