The EURUSD pair locked in gains on Wednesday, October 21. The single currency climbed 0.30% against the dollar to 1.1857, while sterling surged 1.51% to 1.3140.
Cable hit a six-week high against the US dollar on statements by European Union Brexit negotiator Michel Barnier, who told EU lawmakers that a trade deal with the UK could still be in the cards. In the upshot, the euro fell into a trap through a decline in the EURGBP cross. The price action dropped from 1.1881 to 11854. The decline continued to 1.1838 in Asia trading today.
Stateside, the stimulus talks grind on. Nancy Pelosi said she is hopeful that the details of the deal can be worked out before the weekend, but for some reason it seems to us that the deal will most likely fall through. The White House and House Democrats still remain far apart on a number of key issues. Furthermore, the Senate (GOP-controlled) will most like vote against the deal.
Senate Republicans oppose both the administration's $1.88 trln bailout package and Pelosi's $2.2 trln offer. Senate Majority Leader Mitch McConnell advised the White House not to rush into an agreement before Election Day. US President Donald Trump has pledged to win over Senate Republicans, whose consent has not yet been obtained, to accept the relief bill.
Today's macro agenda (GMT 3)
12:25 BoE Governor Bailey speech
13:00 UK: CBI industrial trend orders (October)
17:00 US: leading indicator index (September), existing home sales (October), EU: consumer confidence flash (October)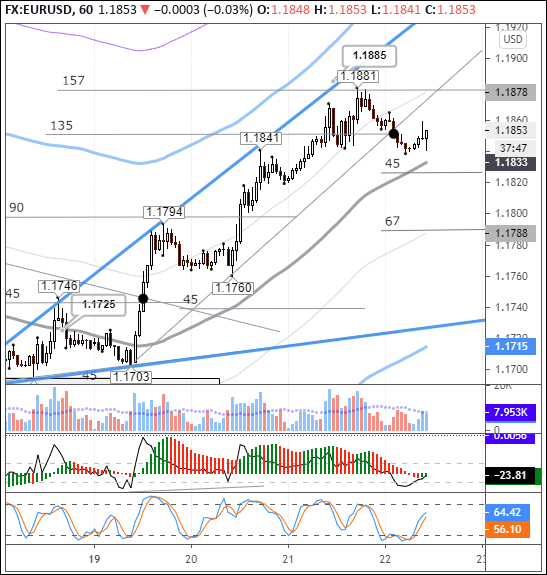 Current outlook
Most currencies have been trading slightly lower in Asian trading as participants await the outcome of the stimulus talks.
The media wired that White House officials and House Speaker Nancy Pelosi have opened the door to passing a coronavirus relief package after the election. Nobody doubts that the bill will get the nod following the election. The question is whether Democrats and Republicans will manage to hammer out an agreement before that time. If not, another question looms large: will the election results be contested?
At the time of writing, the euro fetched 1.1854. The price action has been hovering around the balance line. This means that the market is in a state of rest and balance. Since there was no sharp pullback during the decline in the EURGBP cross, this means that investors expect the talks to yield a positive outcome. So, if the cross starts to correct alongside a decline in the dollar, a maximum retracement can be expected. Therefore, it is safe to sell the euro if this pattern fails to emerge. In that case, investors will again run for defensive assets, the dollar index will rise, while EURUSD will revert to the downside with targets of 1.1750/60. Heightened volatility should be expected until the end of the week.