EURUSD traded lower on Thursday, October 22. The euro shed 0.33% against the US currency, settling at 1.1818. The market reverted to a correction after rallying to 1.1885 in the previous session.
Buyers attempted to retrace to recent highs right after the European opening, but ran into resistance at 1.1867. Aggressive euro selling forced many buyers to take profit on long positions. The price action dropped to 1.1812 as FX players closed their positions, after which the key pair hovered around 1.1820 for 10 hours.
Market participants' focus yesterday and today has been on the stimulus talks stateside.  The situation remains fluid even though Nancy Pelosi says both sides have come to an agreement on the key terms, so an agreement could be reached soon. However, according to White House economic adviser Kudlow, there are still some major political hurdles that will not likely be removed before Election Day. Given that the euro slipped to 1.1787 in Asian trading, investors are apparently not buying into Pelosi's narrative.
Today's macro agenda (GMT 3)
11:30 UK: manufacturing PMI and composite PMI (October)
16:45 US:  manufacturing PMI and services PMI (October)
20:00 US: Baker Hughes weekly oil rig count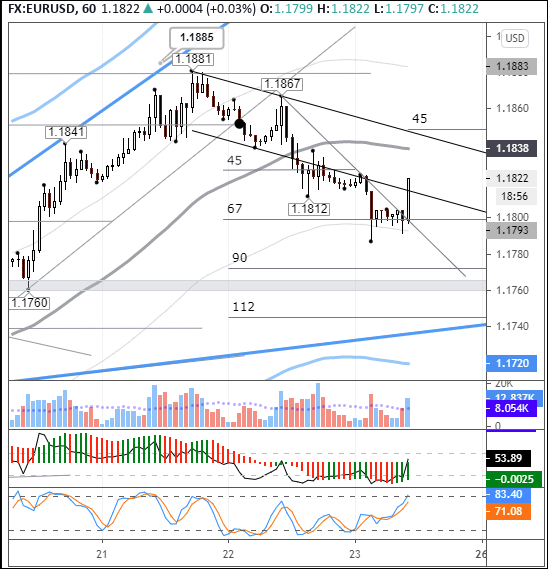 Current outlook
The key pair dropped to 1.1787 in Asian trading earlier today. There is no bullish divergence between the price action and the AO indicator. Given that negotiators and White House officials are sending out conflicting signals about the stimulus talks, the pair may well resume its descent with renewed impetus.
Turning to other technical factors, the decline made up 50% of the increase from 1.1689 to 1.1881. Consolidation takes place at the 67-degree line. The local trendline was crossed from 1.1867. Despite the lack of drivers, good signs are shaping up for the price to recover to the trendline (1.1840) from the top at 1.1885.
Today is the last day of the week. Unless positive news rolls in on the stimulus talks and Brexit, it's hard to imagine at what price levels the EURUSD and GPBUSD pairs will close. Unless a miracle happens and the Democrats spring a surprise on the markets, all major currencies look set to push higher.
Buying sentiment is running high today on the back of stellar manufacturing PMI readings. If the price action holds above 1.1806 until 10:00 GMT, then further gains will most likely be in the cards. Sellers are currently taking aim at 1.1750 near the 112-degree line.