All major currencies ended the week higher against the US dollar. The largest gain was shown by the New Zealand dollar ( 1.26%). A smaller increase was recorded by the euro ( 1.23%), the Swiss franc ( 1.21%), the British pound ( 0.97%), the Australian dollar ( 0.81%), the Japanese yen ( 0.66%), and the Canadian dollar ( 0.47%).
By Friday's close, the EURUSD pair was up 0.34%, while the pound sterling closed 0.28% lower. Cable saw all its gains eroded after the UK's October services and manufacturing PMIs came out. The former fell to 52.3 from 56.1, while the latter dropped to 53.3 from 54.1.
The tone for the European session trading was initially set by the EURUSD pair, which jumped after the release of Germany's flash manufacturing PMI. The reading rose to 58 in October, well above market expectations of 55.1, although the gauge for the services sector showed a decline. The euro got an additional boost from Eurozone macro releases. The October manufacturing PMI rose to 54.4 from 53.7.
By the close of the day, the key pair climbed to 1.1865, while the pound and gold were in retreat. The euro held its ground in cross pairs, which traders snapped following the release of upbeat macro data.
Today's macro agenda (GMT 3)
12:00 Germany: IFO business climate, IFO expectations, and current conditions (October)
14:00 Germany: Bundesbank monthly report
17:00 US: new home sales (September)
18:30 SNB Jordan speech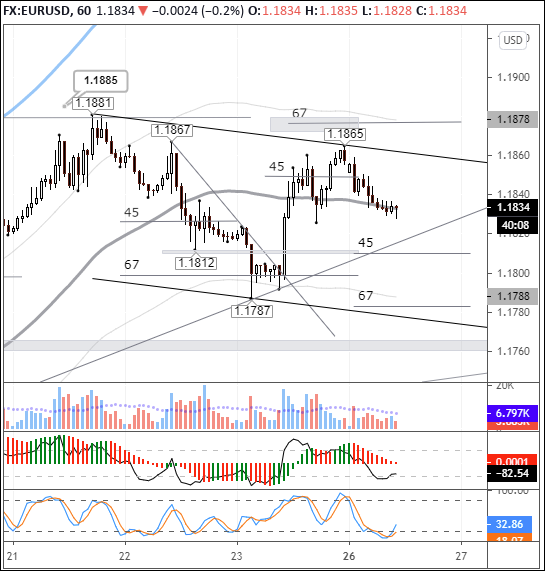 Current outlook  
Major currencies slipped into negative territory in Asian trading, amid a lack of progress in the US stimulus talks. Politicians continue to create the appearance that the process is moving forward, while keeping financial market participants in the dark.
Meanwhile, the coronavirus disease continues to spread across Europe and the US at an alarming rate. Spain and Italy recently announced further mobility restrictions.
With the winter cold and flu season on the way, it will be harder for the authorities to fight the pandemic. Deterioration of the epidemiological environment will exert an impact on the economic recovery amid tightening restrictions and fears that the virus will take a toll on consumer sentiment, while low consumer activity, in turn, will negatively affect economic performance.
The EURUSD pair dropped to the balance line (55-day SMA). European trading opened on a muted note.  Given that today is Monday, the EURUSD pair may hover in the range of 1.1816-1.1860 until Tuesday.
The lower bound of the above range corresponds to the trendline from the 1.1703 low. We expect to see the euro decline to 1.1775 unless there is a breakthrough in the stimulus talks. A recovery to 1.1860 would sharply raise the odds of a further advance towards 1.1930.