The EURUSD pair traded lower on Monday, October 26. The single currency dipped 0.41% against the US dollar to 1.1809.  The pair fell to 1.1803 during the European session. The euro followed the Canadian dollar lower amid the rapid spread of new Covid-19 cases as well as uncertainty over the timing of the new economic relief bill. The market moved against Friday's trend and remained within the range seen during that session.
The stimulus talks continue to drag on as each side blames the other for the lack of progress. US Treasury Secretary Stephen Mnuchin said Monday that Nancy Pelosi's economic aid plan contains a number of issues that President Donald Trump cannot accept.
Senate Majority Leader Mitch McConnell, in turn, called on the White House not to enter into a stimulus agreement before the election. As a result, he postponed the meeting of the upper house of Congress until November 9. Now Pelosi can point her finger at the Republicans and continue to play the blame game.
Today's macro agenda (GMT 3)
14:00 UK: CBI distributive trades (October)
15:30 US: durable goods orders (September)
16:00 US: S&P/Case-Shiller home price (September)
17:00: consumer confidence (October) and Richmond Fed manufacturing index (October)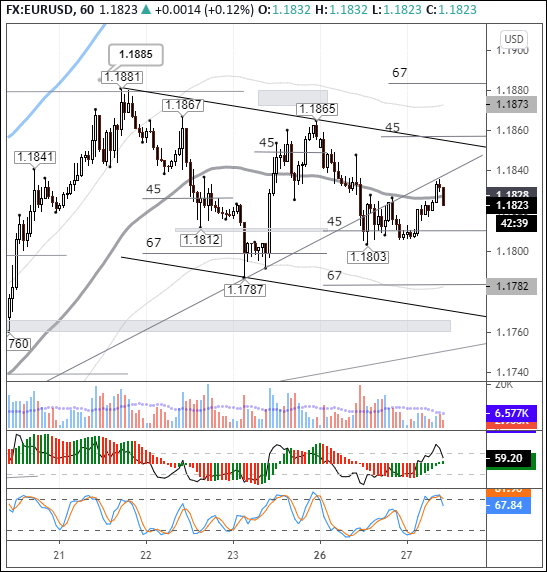 Current outlook
Buyers were unable to hold the balance line (1.1833) as uncertainty over the new Covid-19 relief bill forced buyers to exit long positions.
The dollar index fell from 93.08 to 92.87 in today's Asian trading. Right now, the euro has no incentive to move higher. The US Senate has been adjourned until November 9. Meanwhile, Europe is setting records for the number of Covid-19 infections.
Market players are focused on the US elections and the ECB's meeting on Thursday. The price action is at the balance line (1.1825). Virtually all crosses are trading in positive territory as euros are being bought for other currencies. Given this bullish optimism, buyers could muster a rally to 1.1850.
That said, in view of the negative external backdrop, EURUSD pair is more likely to drop to 1.1750 by Wednesday's European session. To confirm a decline in the pair, track the gold dynamics. The gold price is closely correlated against the euro, so if a bearish signal shapes up in the precious metal, it means that the euro will most likely follow suit. Traders can also make money on a short position if gold and the euro decline concurrently.