The EURUSD pair traded to the downside on Wednesday, October 28. The euro slid 0.42% to 1.1746. Yesterday's steep decline was triggered by expectations of new lockdown measures set to take effect in France and Germany. Equity indexes, gold and oil retreated sharply as risk aversion gained traction. US equity benchmarks plunged nearly 4%, while oil slid 5%, and gold was off 2.17%.
French President Emmanuel Macron announced the introduction of a nationwide lockdown from October 30 to December 1. Angela Merkel also imposed a so-called 'lockdown light' in Germany, which will enter into force on November 2. Soon after the announcement of this news, the reaction of market participants began to moderate. In the upshot, all markets reverted to correction mode.
Today's macro agenda (GMT 3)
11:55 Germany: unemployment rate and unemployment change (October)
12:30 UK: M4 money supply, mortgage approvals and lending (September)
13:00 Eurozone: consumer confidence (October)
15:30 US: GDP growth rate, GDP price index (Q3); US: weekly initial jobless claims
15:45 Eurozone: ECB interest rate decision
16:00 Germany: CPI (October)
16:30 Eurozone: ECB press conference
17:00 US: pending home sales (September)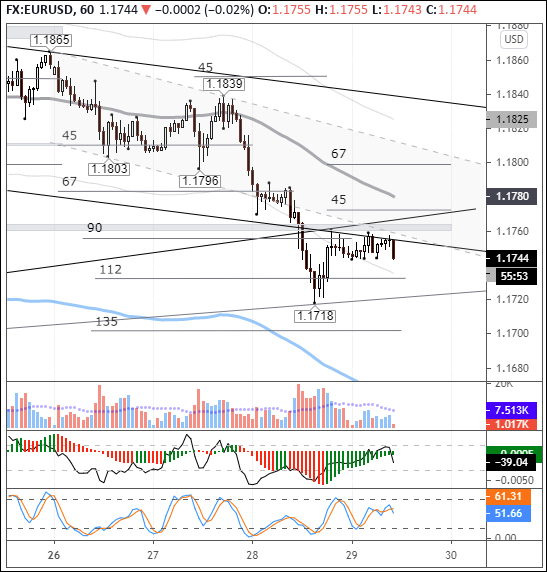 Current outlook  
On Wednesday, sellers broke through a strong support level on the back of reports about new lockdowns being imposed in France and Germany. The decline halted at the 112-135-degree angle line. This is reversal territory, but the rebound was weak since cross trading was on the sell side after Brexit news. This week, EU and UK negotiators have made progress in resolving some of the major differences in the Brexit talks, reviving hopes for a deal by early November. As a result, cable ticked up 97 pips, to 1.3013.
At the time of writing, GBPUSD was trading at 1.3023. Buyers pared over 70% of yesterday's losses, so we think the stage is set for further recovery to 1.3060.
In Asian trading, the dollar has experienced a pullback across the board, while the euro is consolidating within a narrow range. EURUSD is trading at 1.1755 as the euro recovered 40 pips from the 1.1718 low.
Market participants now await the outcome of the ECB meeting and Christine Lagarde's press conference. It is hard to say which programs the regulator may adopt during the second wave of the pandemic. Looking at the TA, the key pair could climb to 1.1780 (lb) within the framework of the correction. Based on the daily TF, the price action remained above the trendline, so the upward correction might intensify due to technical factors. The level of 1.1772 (45-degree line) will act as an interim resistance level.