The EURUSD pair traded in the red on Monday, November 30, down 0.33% to 1.1923. With support from crosses, the euro tested the 1.20 level, from which it later slipped 81 pips.
In the European trading session, Brexit news moved the market. During the North American session, a correction in the dollar index was driven by technical factors. Notably, the correction was not attributable to the news flow.
Today's macro agenda (GMT 3)
11:55 Germany: unemployment rate and number of unemployed (November), manufacturing PMI (November)
12:00 EU: Eurozone manufacturing PMI (November)
12:30 UK: manufacturing PMI (November)
13:00 EU: Eurozone CPI (November)
16:30 Canada: GDP (September)
16:45 US: manufacturing PMI (November), 17:00: ISM manufacturing index (November), construction sector spending (October); 17:00 Fed Chairman Powell speech
17:00 ECB President Lagarde speech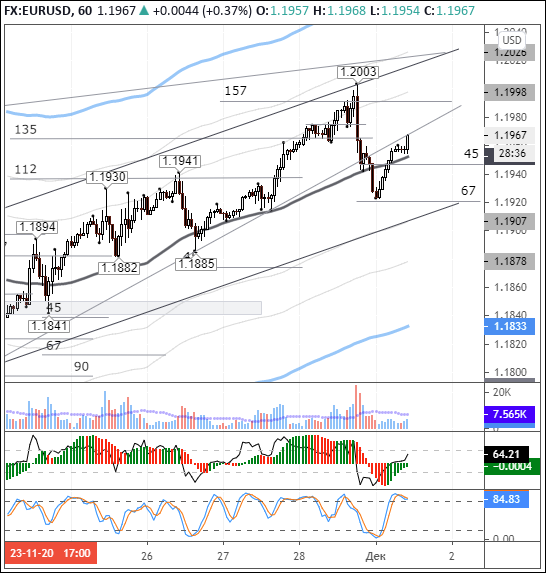 Current outlook
Sellers took their time at the outset of the European session, but almost completely pared Friday's gains by the close as EURUSD sank to 1.1923. In two hours, the price action dropped to the trendline (from the low of 1.1801). After a brief correction, the decline picked up momentum to the 67-degree line (1.1920).
In Asian trading, buyers managed to pare 50% of yesterday's losses. Today's key driver was the aussie, which climbed against the dollar after today's RBA meeting. At its meeting, the regulator kept its current monetary policy on hold, as well as the parameters of the Term Funding Facility and the government bond purchase program.
Chinese macro data lent additional support to risk assets. The Caixin/Markit Manufacturing PMI for November came in at 54.9 (vs. the 53.5 forecast).
At the time of writing, the euro was trading at 1.1964. A candlestick reversal pattern has taken shape on the daily TF, while the news flow is helping buyers win back losses. They are doing quite well in terms of the trend.
We also note a rise in cable to 1.3393. The gains apparently reflect media reports according to which a Brexit deal could be imminent, although the news flow is being offset by diametrically opposed reports that the talks have reached an impasse, so a no-deal Brexit reportedly looms.
Unless the gains come to a halt by the London opening, only one scenario looks plausible - yesterday's high of 1.2003 will be tested. Conversely, if the price action slows down in the vicinity of 1.1980, a new decline to 1.1915 will most likely be in the offing.
Recapping today's key macro data points, stateside at 16:45 the manufacturing PMI for November is due out, and at 17:00 the ISM manufacturing index for November will be released. At 17:00, Fed Chairman Jerome Powell is scheduled to deliver a speech. Christine Lagarde speaks at 19:00, but her remarks are unlikely to exert an impact on the market.