The EURUSD pair rose 0.21% to 1.2175 on Thursday, December 3. The euro mustered a rally to 1.22, but an into pushback from a decline in the EURGBP cross. The gains were driven by heightened demand for risk assets and broad-based USD weakness, which experienced a market-wide sell-off. The greenback retreated as bipartisan coronavirus relief talks resumed amid vaccine news and a lackluster ISM services index stateside. The EURGBP cross declined on expectations that a post-Brexit trade deal could still be in the cards.
According to yesterday's ISM report, the November services PMI fell to 55.9, down from 56.6 in the previous month.
Today's macro agenda (GMT 3)
12:30 UK: construction PMI (November)
16:30 US: unemployment rate and non-farm payrolls (November), trade deficit (October)
16:30 Canada: labour force survey: unemployment rate and employment number (November), balance of trade (October)
18:00 US: factory orders (October)
21:00 US: Baker Hughes weekly oil rig count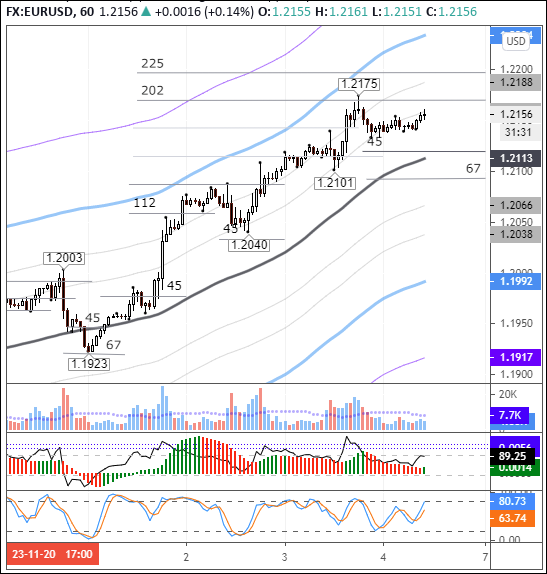 Current outlook
At the time of writing, the euro was changing hands at 1.2157. Buyers saw gains resume at 1.2141 after 14 hours of consolidation. As regards the major currencies, the aussie and the kiwi are trading in the red, while all others are in positive territory. Positive sentiment still prevails as the market looks past Michel Barnier's earlier remarks that the post-Brexit deal hangs by a thread. Buyers bought into all dips, and after that the pound retraced yesterday to its intraday high.
According to the latest reports from Reuters and Bloomberg, Brexit talks are set to continue over the weekend. The euro has been on an upward trajectory since the beginning of the week, climbing 3.17%, or 374 pips. There have been seven bullish impulses during that period ranging from 60 to 120 pips.
Investor attention will be focused today on the US non-farm payrolls report and Brexit news. The market expects the US economy to have added 469,000 jobs in November vs. 638,000 in the previous month. The report contains many components, so it does not make sense to focus on a single indicator. Another key issue is how much and whether job numbers were revised upward or downward over the prior two months. If market volatility rises before 13:30 GMT, speculators are likely to brush aside the NFP report. A trading range of 1.2115-1.2193 could shape up for medium volatility, while the range could reach as high as 1.2093 or even 1.2200 in case of heightened volatility.