The EURUSD pair slipped 0.19% to 1.2078 on Wednesday, December 9. The price rose to 1.2147 during the Asian session. The single currency came under pressure after the European opening. Selling resumed on the back of Brexit news. The UK removed controversial provisions in the Internal Market Bill, which exerted a positive impact on sterling as investors again saw a glimmer of hope for a trade deal between the UK and the EU.
Pressure ratcheted higher during the North American trading session amid a decline in the EURGBP cross pair, as well as a broad-based dollar strength vis-à-vis against all major currencies. We also note that selling could pick up ahead of the ECB meeting and Christine Lagarde's press conference.
The decline ground to a halt after the EURGBP cross pair reversed to the upside. A rebound to 1.2082 was triggered by Brexit news. British Prime Minister Boris Johnson met yesterday with European Commission President Ursula von der Leyen. They were expected to make progress in the talks but they agreed to postpone them and wait until the end of the weekend. Von der Leyen said in a statement that the two sides remain far apart. EURGBP spiked to 0.9064 on this news, while British pound stepped down to 1.3315.
Today's macro agenda (GMT 3)
15:45 Eurozone: ECB interest rate decision
16:30 Eurozone: press conference; US: CPI (November), initial weekly jobless claims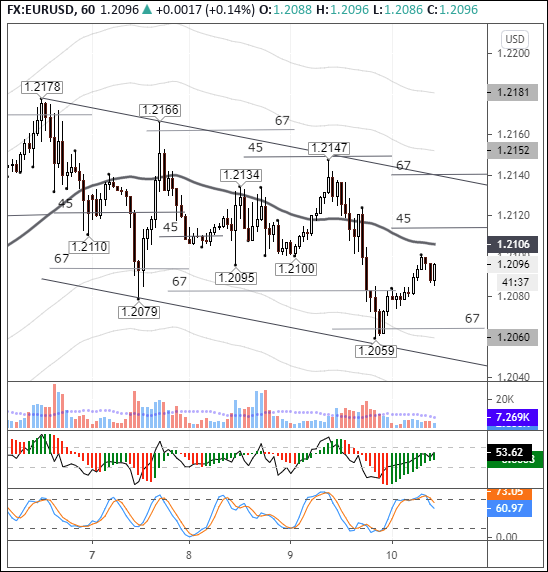 Current outlook
Buyers' failure to break out to 1.2180 casts doubt on further strengthening of the euro. Brexit headlines will continue to impact the FX market for the rest of the week. The deadline for a deal is now Sunday, December 13.
Market participants are focused on the ECB meeting and Christine Lagarde's press conference. The market expects the ECB to expand the size of the Pandemic Emergency Shopping Programme (PEPP).
At the time of writing, the euro was trading at 1.2088. The aussie and the kiwi currently top the leaderboard as the two most profitable currencies. Despite the depreciation of the dollar, risk assets are still in demand on the FX market. The key EURGBP cross is running in unison with buyers.
Ahead of Lagarde's press conference, the euro is expected to firm in the range of 1.2105 (balance line) to 1.2114 (45-degree line). If, in defiance of expectations, positive news rolls in on Brexit and vaccines, there is a chance that the price action will retrace to 1.2140.
Buyers are advised to exercise caution ahead of Christine Lagarde's speech and the euro is likely to experience heightened volatility at 13:30 GMT.