All major currencies posted gains against the US currency heading into the weekend. The steepest increase against the US dollar were seen in the New Zealand dollar ( 1.59%). Smaller gains were recorded by the Australian dollar ( 1.51%), the British pound ( 0.95%), the Japanese yen ( 0.81%), the euro ( 0.71%), the Swiss franc ( 0.51%), and the Canadian dollar ( 0.14%).
The EURUSD pair closed 0.14% higher on the day at 1.1982 on Friday, April 16. The dollar weakened against major currencies amid heightened risk appetite and a mild pullback in UST yields.
Today's macro agenda (GMT 3)
11:00 Eurozone: ECB current account (February)
13:00 Germany: Bundesbank monthly report
15:15 Canada: housing starts (March)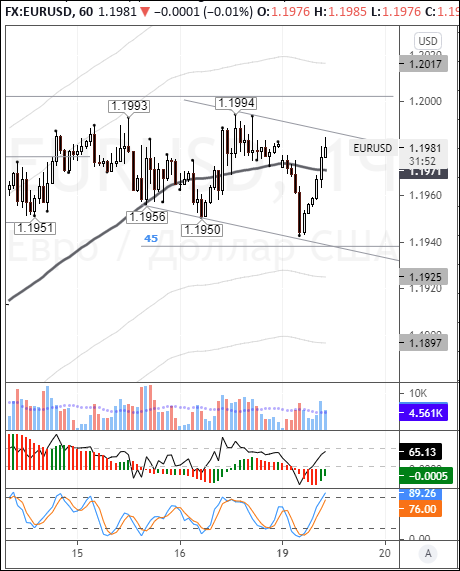 Current outlook
The euro slipped to 1.1943 in Asian trading this morning. Buyers are under pressure from a recent spike in the Covid case count, which has German authorities alarmed. The total number of coronavirus cases increased by 11,437 in Germany over the past 24 hours, reaching 3,153,699. That said, euro-friendly sentiment continues to be bolstered by expectations of a faster recovery in the Eurozone economy as vaccine rollouts pick up speed.
The euro traded up to 1.1983 by the European open, with the uptrend persisting in the key pair. In line with this movement, the next target is the 1.2025 the level. This mark is right around the corner at the time of writing. Players should key an eye on the pair as it retraces to recent highs. If the price action starts to fizzle and trading volumes go down, this will send a signal that a downward correction is in the offing. FX participants should also keep in mind that the ECB is scheduled to hold a regular monetary policy meeting on Thursday. No surprises are expected from the regulator, although the euro may retreat from the highs reached before the meeting. Support will kick in at 1.1930.