EURUSD fell 0.16% to 1.2014 on Thursday, April 22. The ECB left its policy settings unchanged and announced the extension of stimulus measures aimed at combatting the economic fallout from the pandemic. The euro retreated to 1.1994 during ECB Chair Lagarde's speech. Traders were apparently put off by something in Lagarde's speech, or else the euro retreated in unison with other currencies amid USD strengthening.
Rising Covid infection rates continue to keep FX markets under pressure. India on Thursday reported the world's highest one-day rate of 314,835 new coronavirus cases, while Japan could announce a third round of lockdowns.
In other developments, the Japanese Olympics are under threat. The chairman of the organizing committee of the Tokyo Olympic Games said that the competition will have to be canceled if the coronavirus is not brought under control by summer 2021.
Today's macro agenda (GMT 3)
10:15 to 11:30: manufacturing and services sector PMIs will be released in France, Germany, the Eurozone, and the UK (April)
16:45 US: manufacturing PMI (April)
17:00 US: new home sales (March)
20:00 US: Baker Hughes weekly oil rig count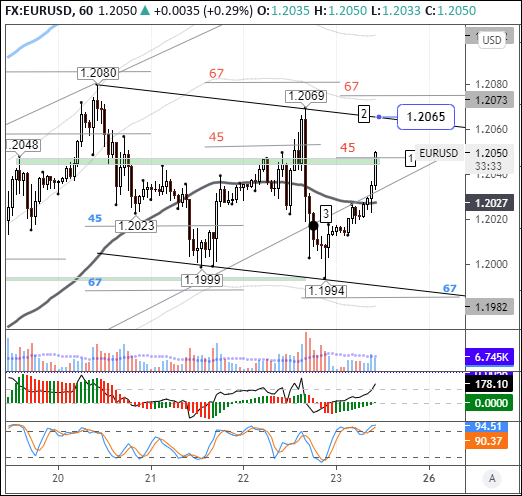 Current outlook
Price action has recovered to the 45-degree angle (1.2048)
Resistance is at 1.2065, the upper bound of a descending channel that includes the 1.2080, 1.2069 and 1.999 levels
A false breakout of the trendline that acted as a support level yesterday
The EURUSD pair recovered to 1.2050 ( 56 pips) from 1.1994. Major currencies are trading in positive territory against the greenback. The 10-year bond yield is hovering in the range of 1.53-1.59% and currently stands at 1.557%. If the Treasury rate falls, the euro will strengthen against the dollar. All crosses except EURAUD are tilted to the buy side.
Today's key news includes manufacturing and service sector PMIs from France, Germany, the Eurozone, the UK and the US. Right now, there is only one risk facing currencies: the upsurge of Covid-19 cases in India and Japan. Europe is expected to lift restrictions, so if the Old Continent also fails to rein in the pandemic, lockdowns will have to be extended until mid-May, which would take a toll on the euro.
Bottom line: The risk of lockdowns being imposed in India and Japan, as well as their prolongation in Europe, still hangs over the FX market. The euro is appreciating amid rising demand for risk assets, while the10-year yield is steady 1.556%. As a result, yields continue to trend downward, with a target of 1.48%.
On the hourly TF, a false breakout of the trendline was recorded, so buyers had the chance, with support from crosses, to retrace to 1.2065. A move above 1.2069 would draw new buyers into the market and in that case the target for the future rally would be 1.2100.