Dear clients,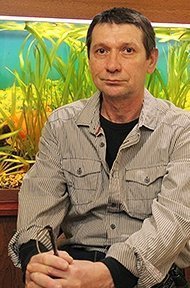 The winner of the first round of our Virtual Reality competition is Vladislav Stoyakin. Participants tested their skills in the art of trading against one another over the course of 3 months. Although they were all trading on demo accounts with virtual funds, the prizes are very much real!
Vladislav agreed to share some of his knowledge with the readers of our site:
How did you find out about Forex?
I first started trading stocks on the Moscow exchange. Then, I decided to try my hand at Forex. It's more predictable than the MICE, where one player with an enormous deposit can significantly shift the price of a stock, defying all logic and technical analysis! This sort of thing used to happen quite often....
One round in this competition lasts for quite a while. What kept you interested in competing over such a long period?
There are over 6 thousand real people competing in this competition! First of all, making it into the top thousand is an achievement in itself and something to be proud of! Secondly, everyone assesses their own trading in their own way and it's never objective. Here, looking at my standing in the table, I get a sense of how things really are. It allows you to get a proper assessment of your own trading strategy.
Thirdly, this competition is excellent preparation for trading on live accounts! In terms of self-study, it provides you with much more experience than simply trading on an ordinary demo account.
What trading strategy did you follow? Please go into detail.
The most important thing is to correctly identify the trend of the currency pair. I do this by looking at the weekly chart and confirming my findings on the daily chart. So, for example, if the market is looking downwards, I only sell on this instrument as buying would be too risky.
Second of all, as a rule, I choose my entry points at rebounds against the main trend. I look out for reversal candlestick models on the daily timeframe. Then, I open a trade on the 15-minute, one-hour, or, maximum, 4-hour timeframes. I either put a small Stop Loss order, or I do without it, in which case my eyes never leave the computer screen. If the price moves in the right direction, I move my Stop Loss order to the break-even point.
Thirdly, I keep an eye on news releases and try not to trade at these times.
I use the Bollinger Bands, MACD, Moving Average and Volumes indicators with standard settings.
What do you think, can Forex be a primary source of income and why?
The Forex market is an ever-changing creature. Yesterday's winning strategies are today's losers. The strategy that fills your pockets today will empty them tomorrow. We are only human, and we too change as we get older. Where we might have made a quick decision before, now we begin to hesitate.
On the other hand, I know for sure that there are people who earn a STABLE income on the Forex market. But at what cost? Every month, week, day, even hour, these people are watching over this beast so as not to lose any money! It's a horrible, nerve-wracking job.
Your victory, was it luck? Or can you really earn money on the Forex market without a deposit?
Well, winning first place was certainly lucky. The participant with the nickname forexrulezno showed an 82.02% profit with a drawdown of 3.67%. Now that's a strong showing. Very strong! My aim was just to make it into the top 10. To earn without a deposit? Let's just say that anything is possible.
Are you planning to compete in the next rounds?
Yes. It's very interesting!
What's the most interesting money-related advice you've ever received?
Money is freedom. You can buy things (a picture or a car etc...) and they will make you happy. You can buy a holiday by the sea and lie on the beach under the sun, and that will make you happy. You can buy some equipment and go with your friends into the mountains, or to some wild places for hunting or fishing (in my case), and this will make you happy. The moral of the story is that life is short, so don't save your money for too long, buy some happiness with it!
The next round of our Virtual Reality competition is already underway, so sign up for the chance to win up to 500 USD and fulfill your dreams!
Best regards,
Alpari