Dear clients,
Last December, Alpari launched "Trader Wars"; a new contest for traders. The winner of round 3 was Oleg Stremovsky. We asked Oleg to tell us a little bit about himself and to share some of the secrets behind his success.
What, in your opinion, do people need to know in order to trade more effectively?
You need to understand that trading is work. If you're looking for a quick fix, best go to the casino.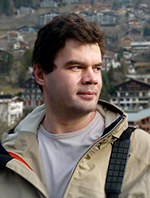 Could you share some of your thoughts about the new contest? How does it differ from others in your opinion?
Trader Wars is a good, unique competition that you can win without taking huge risks in your trading. The knockout format in the second stage is very interesting. However, for a contest that lasts three weeks, the prizes could be a bit bigger, but it's interesting nonetheless. The Jackpot contest was the best in terms of trading when prizes were awarded for your results over the course of a year.
What trading strategy do you employ and why?
I don't have a concrete strategy. I use technical analysis in my trading and I sometimes trade on the news.
If you could have a conversation with any famous investor or entrepreneur, who would you want to talk to? What would you ask them?
I think the most interesting person to talk to would either be Dmitry Ziminy or Sergey Guryev; although there's nothing in particular I want to ask them.
What's important to keep in mind when Forex trading?
Don't fret over missed opportunities.
What's the best piece of financial advice you've ever heard?
Probably this quote: "Anything that can be bought with money is cheap".
Round 4 of Trader Wars is already underway. If you're ready to reach new heights, sign up now and join the battle for prizes!
Best regards,
Alpari