Dear clients,
We're pleased to present the winner of the 231st round of our Formula FX contest, Sergey Kobzar! We conducted a short interview with Sergey, in which we asked him to tell us a little bit about himself, and share some of the secrets of his success.
Congratulations on winning the contest! Tell us, how did you win?
I'm very happy about winning. I'd like to point out that this wasn't my first victory of the year. I regularly take part in Formula FX. I keep track of all the leaders and how consistent their results are.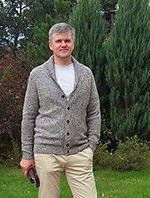 What separates this contest from Alpari's other ones? Why do you like Formula FX?
I like the fact that in this contest, you can show off the immense results of your trading over the course of a week in profit percentage terms.
Do you use any additional resources in your trading, such as websites, books, or educational programs? What resources should every trader use in your opinion?
I analyse the market according to a lot of different criteria in my trading. I study information on various currencies from various sources. This includes keeping track of the weekly events calendar and of speeches from world leaders. But life has taught me to trust my instincts and knowledge, as well as not to be greedy. That last part is very important for any trader who wants to be successful.
Which instruments do you normally trade? What trading strategies do you prefer?
I work with several currency pairs. These are mostly AUDJPY, NZDJPY, GBPUSD, and a few others. One thing you should understand is not to try and reinvent the wheel; just study the currencies and the global market.
What's better: a huge, one-time profit, or a low, but stable income? Why?
I prefer making small, short-term intraday trades. Personally, I find it easier to earn this way.
Now let's talk about something different. How are you planning to celebrate New Year's Eve?
I want to spend it with a small circle of close friends. I'd also like to wish Alpari a record number of new clients in 2019, and record profits to traders.
Best regards,
Alpari