Dear clients,
We're pleased to present Mikhail, the winner of the 13th round of Trader Wars. This isn't the first time that Mikhail has made it to the top, and we asked him to tell us a little bit about himself, and how he managed this victory.
Congratulations on your victory! Could you share your thoughts on the contest? How does it differ from other contests in your opinion?
I really like the contest. I've been competing in it since the first round, and as you can see, I'm still here. The most interesting thing for me is the play-off stage, even when I don't make it there myself. None of the other contests have this type of format. Trader Wars has everything: heated battles, occasional drama, extreme physical and emotional stress, and much more.
The battle was really intense! How did you manage to overcome such stiff competition to win the contest?
For me, it really was intense right from the first stage, when you're trying to get into the top 16 of your faction. This stage went right down to the wire. The knockout stage was no easier, it was never clear until the last minute who would win. Then there's the fact that you have a head-to-head battle every day for 5 days. It was probably my experience, along with a bit of luck at the right time that got me through. This was my second time in the final of Trader Wars. The first time, I lost the final, but this time I was successful, despite the fact that the competition this time around was seriously tough. Just take a look at the results shown by some of the contestants in percentage terms during the first stage, they're just amazing. Something went wrong for them in the play-offs, however, but this happens. These contests will, I hope, continue for a long, long time, and those who really want it will win at some point. Good luck to everyone!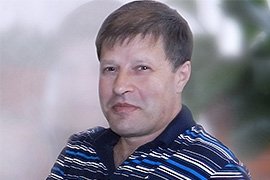 How do you hold your nerve when trading? It's very important after all. Or are you one who likes to give in to their emotions?
Does keeping your cool help? Of course it does, as does being able to calmly calculate at the critical moment exactly how much you need to put into the market to achieve the result you need. Emotions are for later, when you've already done everything you need to.
Are there moments when you don't feel like trading anymore? What brings you back?
I haven't needed to be brought back because I've never left. I've sustained my fair share of losses, but I only ever need just a little bit of time to get my head back in the right place. Then I start back from square one.
If you found a magic lamp, what 3 wishes would you ask the genie to grant?
I wanted to find a lamp in my childhood and get my 3 wishes, but that was in childhood! If I listed my wishes now, what would people think? I left that all behind in childhood!
Are there any famous traders that have inspired you?
Jesse Livermore
People like to make new year's resolutions for themselves at the end of the year for things they'd like to do the next year. What goals would you like to set yourself for 2019?
To be myself.
Best regards,
Alpari