© Dukascopy Bank SA
"Ever since the start of Abenomics, Japanese investors have accumulated a large position in foreign assets but in large part haven't been currency-hedged because Abenomics was expected to weaken the yen."
- BNP Paribas (based on WBP Online)
Pair's Outlook
The USD/JPY currency pair not only remained relatively unchanged for the fourth day in a row yesterday, but also prolonged this week's rally. The current bullish trend appears to be fading, largely depending on today's NFP results. A positive reading is likely to cause the Greenback to put the immediate resistance, represented by the 20-day SMA, the weekly and the monthly PPs, to the test. On the other hand, disappointing data could trigger a sell-off, sufficient to reach the 20-month low at 105.20. According to technical indicators, the bearish scenario is to prevail, but the 106.00 mark should also be considered as a possible support area, as it kept the pair elevated this week.
Traders' Sentiment
Bullish market sentiment remains unchanged, taking up 71% of the market, while the number of buy orders slid from 58 to 49%.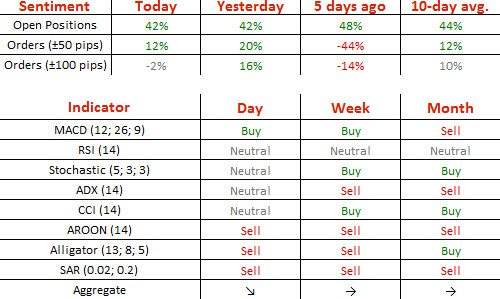 © Dukascopy Bank SA