European markets have had a muted open this morning as ongoing Brexit talks continue to yield any real progress. The deadline of this Sunday has been set for talks to reach a conclusion and with many markets pricing in an agreement of some sort, a derailment of negotiations could well bring on some significant volatility. UK GDP figures also showed a slowdown in recovery rising just 0.4% in October.
All eyes will also be on the ECB meeting later today, where extended stimulus is expected to be unveiled in the form of asset purchases and cheap credit.
In corporate news, online grocer Ocado is down 3% despite raising its full year forecasts once again as the pandemic continues to drive huge demand for home delivery. Our research shows that 67% of people who have done at least some grocery shopping online during the pandemic plan to continue afterwards, which could be good news for Ocado. Despite today's dip Ocado's share price is up 76% year to date.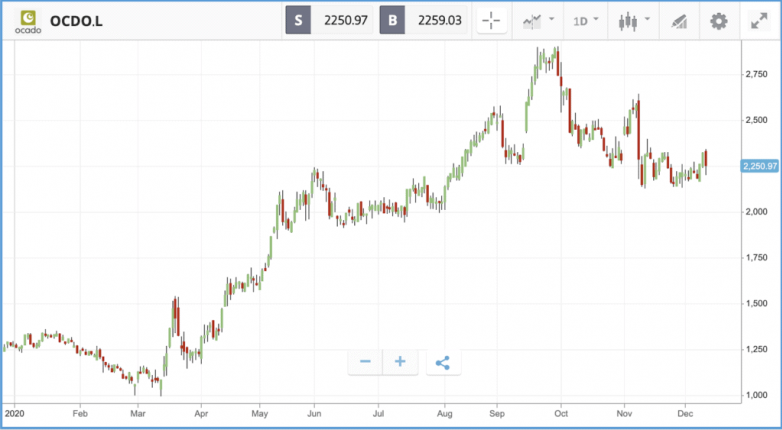 Tech stocks slip, Facebook hit with antitrust suit
US technology stocks slipped on Wednesday, with the tech-heavy Nasdaq Composite and the S&P 500's technology sector both down by 1.9%. Netflix fell back by 3.7%, while Facebook fell 1.9% after being hit with antitrust lawsuits by the Federal Trade Commission and 46 states. The suit accuses the social-media behemoth of being anti-competitive in its acquisitions of WhatsApp and Instagram, and seeks to roll back the deals. Just weeks previously, the Justice Department brought a case against Google alleging it is illegally maintaining a monopoly in the search engine business.
Facebook responded by pointing out the FTC approved both the Instagram and WhatsApp deals. There are signs the efforts will continue under the Biden administration, as the FTC voted three to two to file the suit, including two Democrat votes in favour, according to The WSJ.
All three major US indices in the red, AirBnB IPO sets $47bn value
All three major US stock indices were in the red on Wednesday, with the Nasdaq down 1.9%, the S&P 500 down 0.8% and the Dow Jones Industrial Average down 0.4%. Three of the S&P 500's 11 sectors were in the green, with the communication services and real estate sectors the biggest fallers alongside information technology stocks. Among the Dow's 30 names, Goldman Sachs led the way with a 1.7% gain, while Salesforce brought up the back with a 3.2% loss.
In corporate news, Airbnb sold shares in its IPO at $68, valuing the company at $47bn. That is well above the $56 to $60 range it had teased initially. In April, after the pandemic hit the US and the outlook for the travel industry disintegrated, Airbnb raised $2bn in debt funding at an $18bn valuation and laid off a quarter of its staff in a cost-cutting initiative. Elsewhere, General Electric agreed to pay a $200m, and AT&T said it has had bids above the $15bn mark for its satellite-TV unit.
S&P 500: -0.8% Wednesday, -13.7% YTD
Dow Jones Industrial Average: -0.4% Wednesday, 5.4% YTD
Nasdaq Composite: -1.9% Wednesday, 37.5% YTD
Just Eat stock jumps after DoorDash IPO
London-listed stocks were close to flat on Wednesday, with investors still in wait-and-see mode as Brexit negotiations continue. The ability of the UK to move away from EU regulatory standards, fishing rights and more still remain in contention. At the top of the FTSE 100 was Just Eat Takeaway, which added 7.3%, following food delivery firm DoorDash's mega IPO on the New York Stock Exchange. After going public at $102 a share, representing a $39bn valuation, DoorDash stock is now trading at close to $190. In the FTSE 250, stocks including Pets At Home and Marks & Spencer posted gains (of 6.4% and 4.3% respectively) while Polypipe fell back by 4.1%.
Investors also had a forecast from the Confederation of British Industry (CBI) to digest, which said it anticipates the UK economy will recover next year from the pandemic but a full recovery won't happen until the end of 2020 due to a lack of business investment since the 2016 Brexit vote.
FTSE 100: 0.1% Wednesday, -13% YTD
FTSE 250: 0.1% Wednesday, -9.1% YTD
What to watch
Adobe: Software firm Adobe has added almost 50% to its share price in 2020, and has held up over the past three months while some tech names have faltered. The firm delivers its latest set of quarterly earnings on Thursday, where analysts are anticipating an earnings per share figure of $2.66. Key to watch for investors will be the firm's cloud businesses, where new subscription numbers and new avenues of growth will be under the microscope. Currently, 19 Wall Street analysts rate the stock as a buy or overweight, seven as a hold and one as an underweight.
Oracle: Cloud application and platform firm Oracle also delivers its latest set of quarterly earnings on Thursday, where a key point of focus will be the state of the firm's deal to acquire TikTok's US operations. The social media firm's Chinese parent company ByteDance has struck a preliminary deal with a combination of Oracle and Walmart, but it has not been finalised. This week, a judge blocked a ban of TikTok in the US, which President Trump had threatened, if the company did not agree to sell to a US firm which was approved by the White House by last week. Year-to-date, Oracle stock is up by 12.7%.
Lululemon Athletica: High-end athleisure wear firm Lululemon has soared by 57% in 2020, as despite widespread gym closures, workers stuck at home have increasingly turned to casual and comfortable clothing options. The firm also acquired Mirror this year, which sells an interactive workout display, pushing it into the home fitness segments. Key points to watch when the company delivers quarterly earnings on Thursday will be e-commerce growth, how the integration of Mirror has progressed, and investments in its online presence and product lines. Analysts expect the firm to deliver an earnings per share figure of $0.88 for the quarter.
Crypto corner: bitcoin leading contender to replace dollar as world reserve currency says Morgan Stanley
With the dollar now having survived as world reserve currency longer than is typical, only bitcoin looks like a true contender to replace it, says Morgan Stanley.
Ruchir Sharma, Morgan Stanley Investment Management's chief global strategist writing an OpEd in the Financial Times, says bitcoin is the only real contender to replace the US dollar as the world's reserve currency – a position occupied at one time in the past three hundred years by six countries' money.
But, says Sharma, the euro looks too structurally unstable as a successor while the Chinese renminbi is untrusted by most nations thanks to the autocratic regime behind it. Instead, Sharma says bitcoin is already showing signs of becoming useful as a global monetary system, with examples of people and businesses around the globe now using it to make payments and perform transactions where their local currency is untrustworthy or foreign exchange controls are too limiting.
All data, figures & charts are valid as of 10/12/2020.
This communication is for information and education purposes only and should not be taken as investment advice, a personal recommendation, or an offer of, or solicitation to buy or sell, any financial instruments. This material has been prepared without taking into account any particular recipient's investment objectives or financial situation, and has not been prepared in accordance with the legal and regulatory requirements to promote independent research. Any references to past or future performance of a financial instrument, index or a packaged investment product are not, and should not be taken as, a reliable indicator of future results. eToro makes no representation and assumes no liability as to the accuracy or completeness of the content of this publication.