Bitcoin tags $40K and Ethereum approaches all-time high before market pullback
As protestors stormed Capitol Hill last Wednesday, Bitcoin broke through $40K, pushing the total crypto market cap beyond the $1 trillion threshold.
The Democrat's narrow victory over the senate fuelled the Bitcoin rocket further, creating expectations that a unified government legislature will pave the way for fiscal stimulus worth up to $3 trillion.
This pushed the crypto market rally into overdrive. Stellar doubled before finishing the week with 50% gains, and Ethereum approached all-time highs before Bitcoin put an end to the fun by tumbling all the way back to $33K.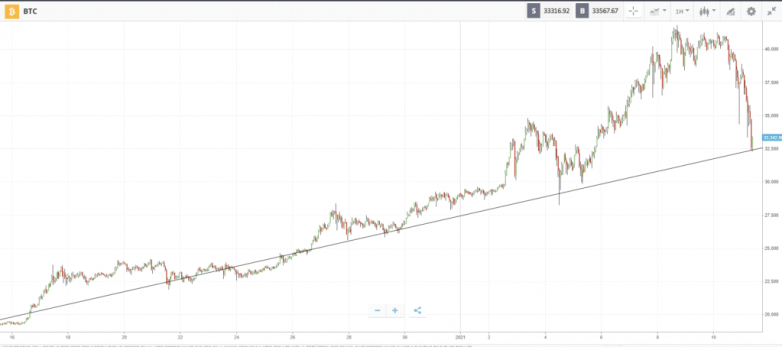 This Week's Highlights
Stellar outshines market with dazzling rally
Ethereum approaches all-time high
Stellar outshines market with dazzling rally
Stellar is shining more brightly than ever. The payment-focused cryptocurrency doubled this week, hitting highs above $0.40 before pulling back to find support at $0.25.
Expectations for the cryptocurrency have grown after reports surfaced that Ukraine had selected the Stellar blockchain for its CBDC, and the OCC announced that American banks could use public blockchains and stablecoins as settlement infrastructure. This follows the news from last October that $USDC will land on Stellar in 2021.
Ethereum approaches all-time high
Ethereum soared over 50% during the week, teasing traders with the prospect of fresh all-time highs above $1,420.
The second-largest crypto topped out at $1,350 before a violent retracement took the cryptocurrency as low as $1,020.
Other metrics however, have already hit fresh highs. Google Searches for "Ethereum" are set to break 2017 levels, market capitalization has set a new record, and network fees have followed suit — suggesting high levels of activity could soon cause prices to rally beyond current levels.
The week ahead
After climbing more than 40% in the first eight days of 2021 to double the previous all-time high, a pullback is now in play as Bitcoin hovers around $33K.
In previous bull rallies, Bitcoin dipped between 20-40% before resuming the uptrend. Such a downturn would take prices as low as $25K.
According to legendary investor Bill Miller however, the rally is not over yet. He told CNBC on Friday that investors should expect Bitcoin to be "very, very volatile", but also that he expects the cryptocurrency to surge "50-100% in the next 12 to 18 months".