The US dollar index opened the week with a gap to the downside at 93.70 after it failed to settle above 95.00 last week. The Federal Reserve kept interest rates at 0.25%-0.50%. The central bank also cut its outlook for the economy and the future path of interest rates. Dovish comments from St. Louis Fed President James Bullard that the US needs only 1 rate hike through 2018 on Friday also weighed on the greenback.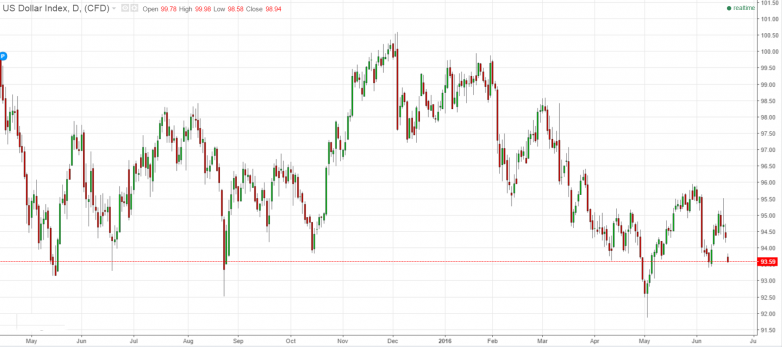 The Fed Chairwoman Janet Yellen will testify to Congress on monetary policy on Tuesday and Wednesday. The market players will expect comments on potential Brexit and some hints on the timing of the US interest rate hikes. America will also release housing data on Wednesday and Thursday as well as durable goods orders on Friday.
Yellen probably won't give many hints about the US monetary policy until the future of Britain in the European Union remains uncertain. If Britain remains in the EU, the greenback will rise against Japanese yen and Swiss franc, but initially lose to Australian and New Zealand's dollar. In case of Brexit the move will be opposite with big gains of the US dollar against commodity currencies.