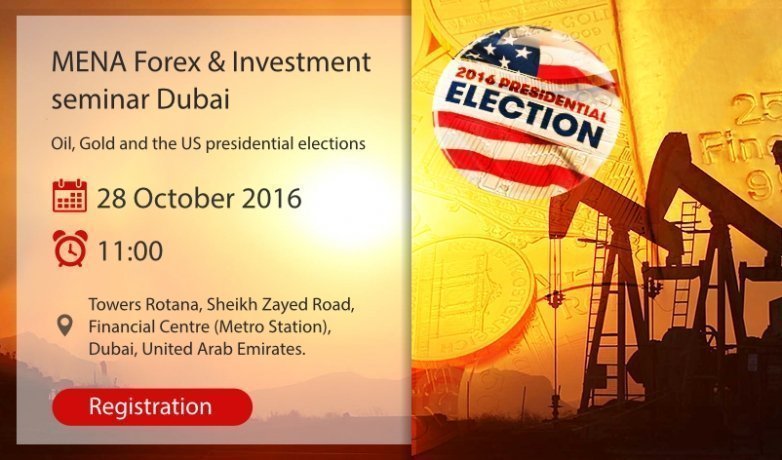 Dear clients and partners
FIBO Group, Ltd would invite you to the MENA FOREX & Investment seminar, which will be held on October, 28 in Dubai.
We have decided to combine the most relevant topics at the moment and we are glad to invite you to the "Oil, Gold and the US Presidential Elections" seminar.
Having visited our seminar, you would:
Learn what may happen to gold and oil if Trump wins or Clinton wins the US presidential elections
Estimate the typical level of volatility on gold and oil caused by the US presidential elections
Evaluate the opportunities for the US dollar before and after the elections
This seminar will be interested for the traders and investors, who would like to get the knowledge of the oil and gold pricing factors and to obtain a detailed analytical overview of the events affecting the volatility of the financial markets.
Andrew Masters, the FIBO Group, Ltd analyst and trader with the 15-year experience in the various international markets, including the Australian stock market, commodity and FOREX markets, will  be a speaker on this seminar.
The participants will have a chance to ask their questions and get the detailed information about the financial tools and trading conditions of the FIBO Group, Ltd after the seminar. The company team would carry out individual consultations with every client.
It is not coincidence that Dubai has been chosen a venue for holding this workshop, as this is a booming commercial center with the unique business conditions. Dubai is an ideal venue for exhibitions, conferences and seminars.
Venue:  Towers Rotana, Sheikh Zayed Road, Financial Centre (Metro Station), Dubai, United Arab Emirates.
Beginning : 11 a.m. (Dubai time).
We look forward to seeing you at our event in Dubai!
Best regards, FIBO Group Ltd.