Last night's Super Bowl was undoubtedly one for the ages. After a pitched back-and-forth battle, the Seattle Seahawks seemed destined to score the game-winning touchdown with 20 seconds left in the game when New England Patriots rookie Malcolm Butler made an incredible interception to steal the game back for the Patriots, denying the Seahawks from winning back-to-back championships.
Unlike this year's Super Bowl, US stock market performance has essentially followed the same script as last year thus far. Back in 2014, stocks fell around 4% in January, raising fears that the prolonged uptrend was finally be coming to an end. As it turns out, those fears were misplaced and the S&P 500 powered higher in each of the next five months on its way to setting 51 new all-time closing highs over the course of the year.
This year, traders are once again fearful that January's 3.5% pullback may portend darker times ahead for US stocks. The media has latched on to stories about the bearish implications of the so-called "January Effect" (the idea that the stock market's performance in January can foreshadow the full-year performance), despite the fact that stocks have actually moved higher over the final 11 months of the year five of the last six times that we've seen a down close in January. Some traders have even tweaked the rule to show only instances where stocks have closed lower in January after three or more "up" years, finding bearish implications for the rest of the year over an admittedly small sample size.
While these forecasts can have limited uses, traders and investors should always defer to the price action to evaluate the current health of the market. From that perspective, the picture is mixed. The S&P 500 continues to hold above its 200-day moving average, keeping the long-term uptrend intact, but some traders have noted a possible 3-month Head-and-Shoulders pattern forming with a neckline in the 1970-1980 zone. At the same time, the MACD indicator is showing bearish momentum and the RSI has put in three consecutive lower highs, suggesting that buying enthusiasm is waning though the sellers haven't necessarily taken the upper hand yet.
In our view, the Head-and-Shoulders pattern is far from definitive, but even if you view the recent price action as a sideways range, a break below previous support and the 200-day MA around 1970 would have strongly bearish implications. In that case, bears may finally have their day in the sun and could seek to push the index down toward the 61.8% Fibonacci retracement near 1920 next. On the other hand, sellers have already been burned repeatedly going against the S&P 500 uptrend, so we're inclined to give the rally the benefit of the doubt as long as the index holds above the 1970 floor.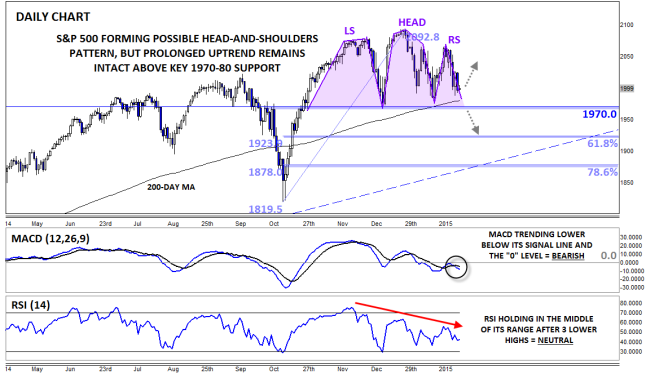 Source: FOREX.com
For more intraday analysis and market updates, follow us on twitter (@MWellerFX and @FOREXcom)