It has been a fairly mixed morning for North American traders as they survey the landscape of US economic releases and overnight price action.  Starting with the overnights, Manufacturing PMI reports out of Asia and Europe gave no strong indications of anything that was outside of expectations with a few that were a little better than anticipated (Spanish, Italian, and UK), a couple that were worse (Chinese and Swiss), and one that was just as predicted (Eurozone).  When all was said and done, most major currencies oscillated slightly, but by the time North American trade began they returned back to where they were at the end of trade on Friday.  As for US data, the even keel theme continued as PCE was right where it was expected to be at 0%, Personal Spending missed slightly (-0.2% expected, -0.3% actual), and Personal Income beat slightly (0.2% expected, 0.3% actual).
All of this even-handed activity has returned the USD/JPY back to a level that has become very familiar over the last week and a half.  Even before the Federal Reserve's monetary policy decision last week hit the wires, the USD/JPY was mired in a triangular range that served to contain the pair from breaking out substantially.  While it appeared a breakout had occurred as we began trade this week, it has scrambled right back to the familiar range and has likely placed doubt in many a trader's mind as to whether this was a true breakout.  While the low set upon market open for the week was below the established rising trend line, it failed to take out the low that started the triangle to begin with, which may indicate this is more of a fake-out than anything else.
If this truly is a fake-out type of price action, the USD/JPY is setting itself up for a rally back up to the top of the triangle as the rest of the North American trading day advances.  Even though the bottom of the triangle has been breached once again as I go to press due to a miss in ISM Manufacturing PMI, the established support could keep this pair elevated and solidify the fake-out theory.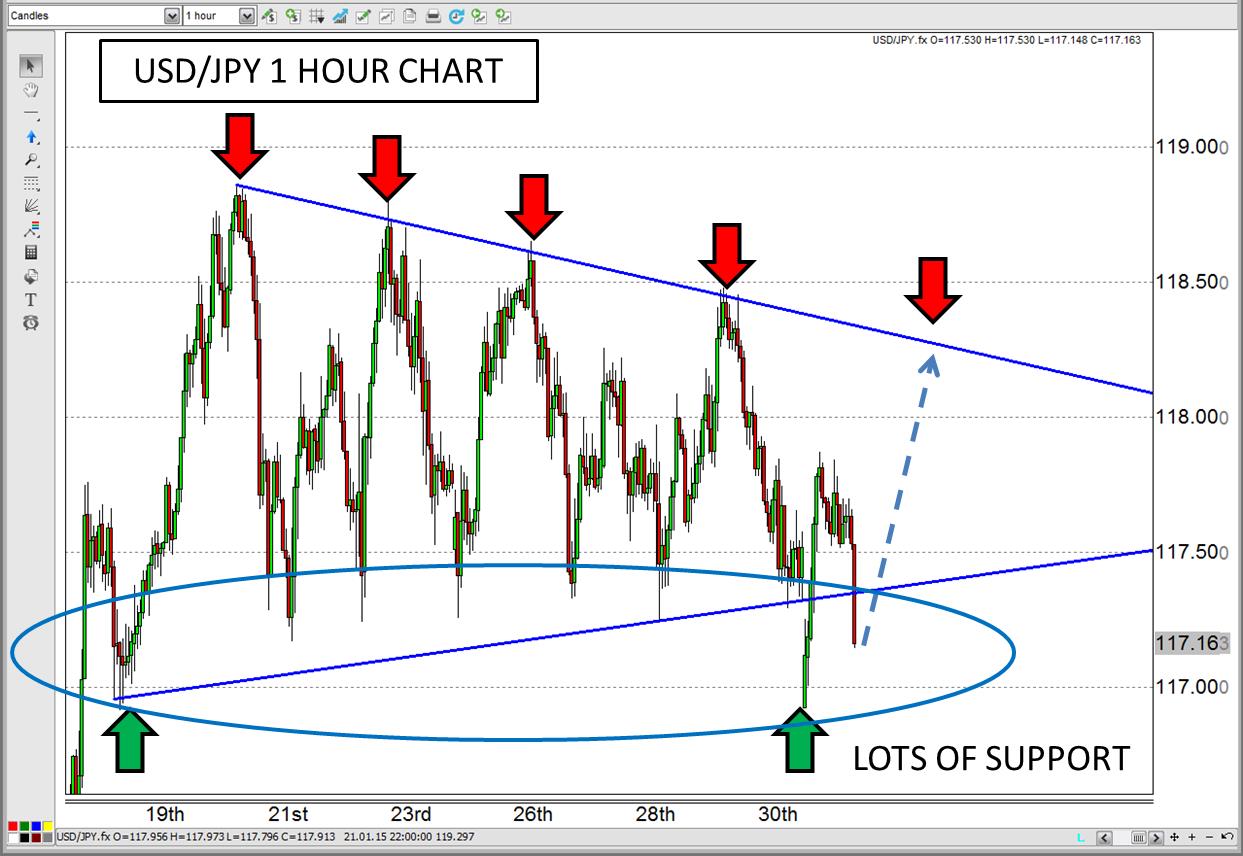 For more intraday analysis and trade ideas, follow me on twitter (@FXexaminer ).