It's going to be a big day for the Australia dollar as the market assesses some key economic data in the lead up to a potential game changing monetary policy decision from the Reserve Bank of Australia (RBA). The RBA's board has to make the difficult decision on whether to cut interest rates or leave the OCR at 2.5% for at least the next month. There is little doubt that the bank will strike a more dovish tone at this meeting than it did last year, but it may elect to hold-off cutting interest rates this time around and wait for further clarification from domestic economic data. (For a full rundown of today's meeting see: RBA Preview: almost too close to call).
AUD eyes Australian economic data
Overnight AUDUSD broke through a short-term resistance zone around 0.7800 as the market asked the question: how dovish can the RBA really get? It seems the market may have overextended the sell-off in AUDUSD in the lead up today's meeting as everyone began jumping on the rate-cut bandwagon. In saying that some bears may still emerge from the woods if the RBA cuts the OCR later today.
Before the RBA's policy decision the market is going to closely assess some trade and building approvals figures which are due out at 1130AEST (0030GMT). Australia's trade deficit is expected to shrink to 850m in December from 925m in November. Exports have been the backbone of growth recently, and a broad lack of life in the rest of the economy means we still want to see strong export numbers. Building approvals numbers for December are due out at the same but these may take a back seat today (expected -5.0%).
AUD
While we can see the RBA cutting interest rates today, the AUD isn't looking very top-heavy versus USD anymore. A lot of possible dovishness from today's statement looks to have been priced in already, thus the room for further downside appears to be limited. In saying that, if the bank cuts interest rates and signals that further easing may be necessary, then AUD may get mauled by bears. In the event that the RBA doesn't cut rates today AUDUSD may head towards 0.8000.
AUDNZD
AUDNZD is looking somewhat top-heavy and there is some bearish divergence between price and RSI (see chart). It may be too early to short at the moment, but a confirmed break today on the back of soft fundamentals and a break of AUDNZD's medium-term upward trend could break the pair's back.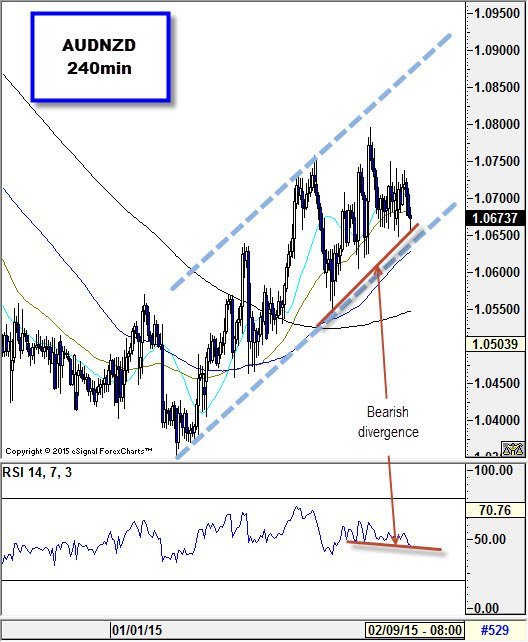 Source: FOREX.com