It's been a relatively eventful second day of the trading week thus far, with a game-changing interest rate cut from the RBA and details about Greece's proposed debt restructuring plan marking the biggest events. Some of the traditional measures of risk appetite are on the rise, including global equities and bond yields, but traders in Europe remain skittish: yields on German 10yr bonds dropped below their Japanese equivalents, and in a bizarre development, traders even bid the yield on 18-month bonds from Swiss food company Nestle to negative. It's the first time in history that either of these events has occurred, and they suggest that European traders remain starved for yield on a continent newly awash with liquidity.
So what currency could be the beneficiary of European traders' unease? The obvious choice would be the British pound, which has quietly seen a couple of strong economic reports already this week. Both the Manufacturing (53.0 vs. 52.9 eyed) and Construction (59.1 vs. 56.9) PMI figures came out stronger than expected, raising hopes for tomorrow's far-more-important Services PMI report. If the services measure can exceed estimates of 56.6, the stark divergence in growth between the UK and the Eurozone could drive more flows North across the English Channel.
Technical View: GBPUSD
EURGBP would be one way to play this theme, but GBPUSD's chart is far more constructive at this point. The pair has stubbornly held above key psychological support at 1.50 for the last four weeks, despite broader strength in the US Dollar. Over that period, the secondary indicators have gradually improved, with both the MACD and RSI rising back above their neutral levels (0 and 50 respectively). At this point, the 4hr chart is beginning to resemble a classic rounding bottom formation, which, according to Investopedia, is "found at the end of extended downward trends and [may] signify a reversal in long-term price movements."
From a sentiment perspective, traders' strong selling bias from the New Year has evaporated, but the market is still looking for a bullish catalyst to drive rates through resistance in the lower-1.52s. If tomorrow's UK Services PMI report completes the bullish PMI trifecta, and especially if Friday's US NFP report misses expectations, we could see the medium-term bias in GBPUSD shift in favor of the bulls. Though the current bias is neutral, aggressive swing traders could consider accumulating near the 1.50 support level, while more conservative traders wait to see if GBPUSD can break above the 38.2% Fibonacci retracement at 1.5270 to confirm a bullish shift.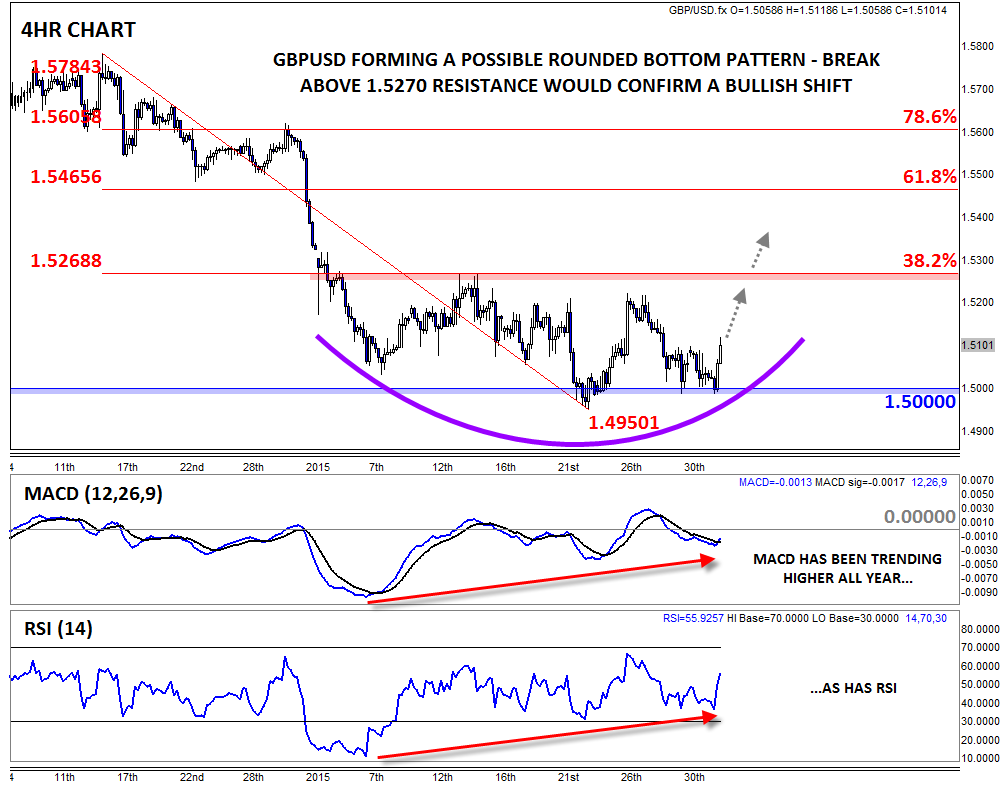 Source: FOREX.com
For more intraday analysis and market updates, follow us on twitter (@MWellerFX and @FOREXcom)