The North American market has spent the early half of trade feeling the after-effects of the decision by the Reserve Bank of Australia last night to cut interest rates by a quarter percentage point.  While the AUD is taking a beating across the board, other currencies and equity markets are taking full advantage as both European and North American indices are rallying.  Even oil is advancing with WTI clearing the $50 barrier in European trade.  This is all despite less than spectacular results on the economic figure front in North America as both US and Canadian data had declining results.
The one bit of positive news actually came from New Zealand where results from the most recent Global Dairy Trade milk auction were released around 10am ET.  The bi-monthly release had previously been a thorn in the side of the NZD as it was consistently showing a decline and a dis-inflationary lean.  However, the New Year has been a fresh start for the auctions, and since the calendar turned, all has been positive.  Today's 9.4% increase was the largest since April 2013, and represented the fourth straight auction with a positive result.
If we were to leave everything as is with the milk auctions, perhaps we could see a reversal of fortune for a depressed NZD moving forward, but the day isn't nearly through for the Kiwi.  New Zealand has an employment release coming out at the tail end of the North American trading session that will surely influence the currency as well.  The NZD/USD in particular has advanced, but is approaching a long term trend line that could prove difficult to penetrate.  In addition, the trend line matches up with psychological resistance at 0.73.
The employment release coming out for New Zealand will be the fourth quarter release, right when many of the negative milk auction results were rearing their ugly heads.  Considering milk is the main export for New Zealand, it doesn't take much of a leap in logic to assume employment suffered as price pressures became more apparent.  If the forces of the trend line, psychological resistance, and a disappointing employment report converge, the NZD/USD could be suffering a similar fate as the AUD/USD last night.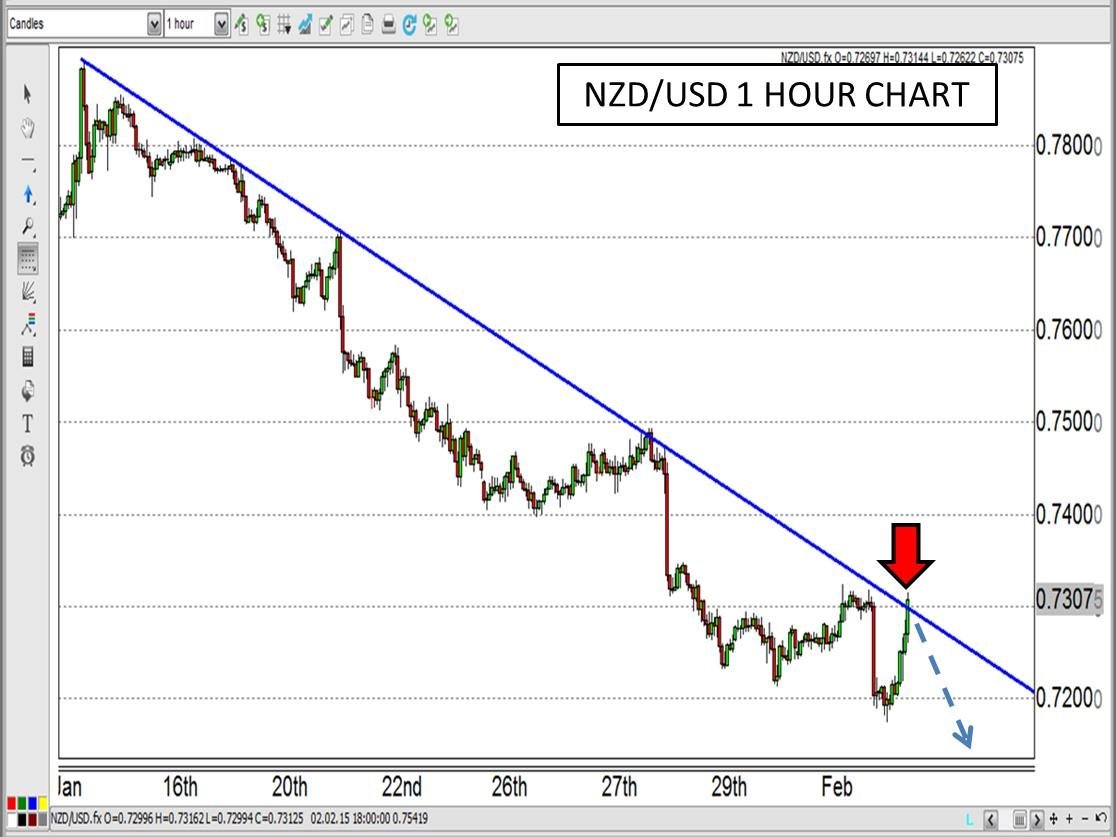 For more intraday analysis and trade ideas, follow me on twitter (@FXexaminer ).