Quick quiz: How long did it take WTI to rise from 44.00 to 53.00 for the first time back in 2004?
Answer: Almost three months, which was a fairly quick period for an 20 % gain.
Follow-up quiz: How long did take WTI to rise from 44.00 to 53.00 most recently?
Answer: Less than three trading days.
The absolutely vicious rally in oil over the last couple of days has dwarfed any historical precedent and despite some media coverage, is still seemingly running under-the-radar. On Friday, WTI broke above its 20-day MA for the first time in four months in a sharp late-day rally, and so-called black gold has now carried that momentum into the first two days of this week. Just a few hours ago, WTI broke above 51.50 to set its first notable higher high since last June, and it's now trading all the way above 53.00. It's incredible to consider, but oil is now in the colloquial definition of a bull market – a 20% rally off its lows!
There are competing narratives to explain the rally: bears chalk it up to a particularly violent short squeeze that will soon evaporate  as the longer-term downtrend reasserts itself, while bulls point to the staggering drop in oil rig counts as a sign that supply is finally responding to the drop in price. Regardless of which of these explanations proves correct, the technical picture is looking more constructive than it has at any point in the last eight months.
In addition to the break above the 20-day MA, both the MACD and RSI have been trending higher for the last six weeks; in retrospect, this bullish divergence provided a clear signal that the market was ripe for a bullish reversal. Moving forward, traders should continue to monitor the price action around key levels, rather than falling in love with any specific bullish or bearish narrative. If WTI can clear previous-support-turned-resistance at 53.50, a move up toward 55.00or even the previous highs at 58.50 is possible. On the other hand, a rejection at 53.50 would point toward more consolidation around 50.00 in the short term, though the staggering scope of the rally suggests it's unlikely that oil will resume its previous downtrend at the same pace any time soon.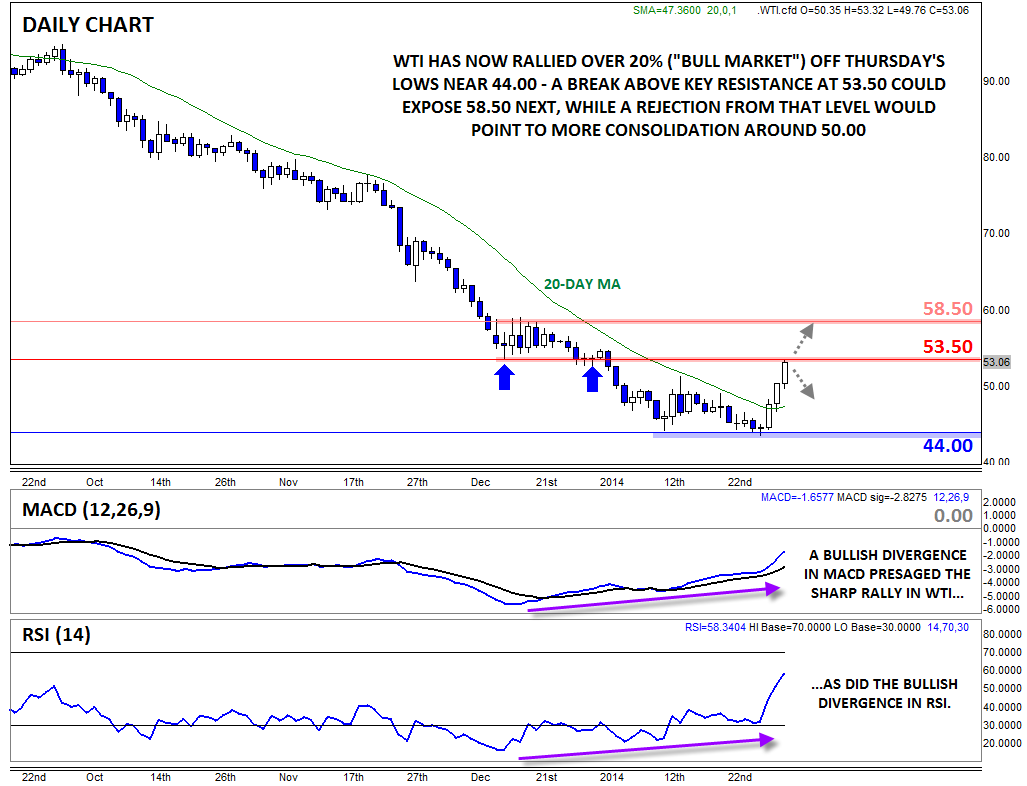 Source: FOREX.com
For more intraday analysis and market updates, follow us on twitter (@MWellerFX and @FOREXcom)