"The older I get, the more I realize the truth is the simpler the food, the more exceptional it can be.
- Joël Robuchon, named "Chef of the Century" in 1989
I'm by no means a 4-star chef, but I learned early on that memorizing a few simple recipes can provide plenty of diverse flavors and help save money on food. There are many parallels between trading and cooking: in both fields, careful preparation is critical, as is adapting to setbacks, but one of the most important parallels is the importance of simplicity. At some point, adding more ingredients to a recipe detracts from the overall taste of the food, much as adding another indicator or economic data point to a trading strategy can hurt profits. That's why I love simple recipes in both cooking and trading, and the recent rally in NZDUSD can be easily explained as a function of three primary ingredients:
1)      A Spoonful of Rising GDT Dairy Prices
As we've noted previously, dairy products make up fully one-third of New Zealand's exports, so the island nation's economy is heavily influenced by the prices of milk and other dairy. Yesterday's biweekly Global Dairy Trade (GDT) showed a strong 9.4% rise in dairy prices over the last two weeks, marking the fourth consecutive gain after 2014's collapse. Farmers and global investors are growing increasingly optimistic that a medium-term bottom has formed in dairy prices, with obvious benefits for the New Zealand economy and the kiwi.
2)      A Cup of Chinese Easing
As my colleague Kathleen Brooks noted earlier today, China joined the synchronized global central bank easing party overnight. The PBOC's decision makes it the 16th central bank to cut interest rates so far this year, and with lackluster price pressures across the board, that party may continue to grow from here. China is New Zealand's biggest export market, so efforts to stimulate its economy support the Kiwi Nation as well.
3)      A Dash of Improving Employment
The final ingredient for NZDUSD's big rally was a solid 1.2% q/q rise in NZ employment. Though the unemployment rate actually rose to 5.7% in the island nation, this increase was due to a record 36k increase in the workforce (for more, see Chris Tedder's report "NZD Bounces Around on NZ Employment Data and Wheeler").
With three separate bullish fundamental catalysts emerging over the last 24 hours, it's no surprise that NZDUSD surged all the way to .7450 in today's early European session. This rally has been impressive, but the most important question is, "will NZDUSD's rally continue from here?" For now, we remain skeptical of further gains; after all, the RBNZ is still decidedly neutral, and commodity prices could easily take another tumble lower.
As always, the price action will be the most important factor to watch. NZDUSD has strong resistance at .7450, which represents previous triple bottom support from back in late 2011/early 2012. Meanwhile, the MACD indicator is still showing bearish momentum, and the RSI has now bounced back above the 30 level, relieving the pair's short-term oversold condition. Unless the market gods decide to toss in another bullish ingredient to the recipe, the bias in NZDUSD will remain neutral below .7450.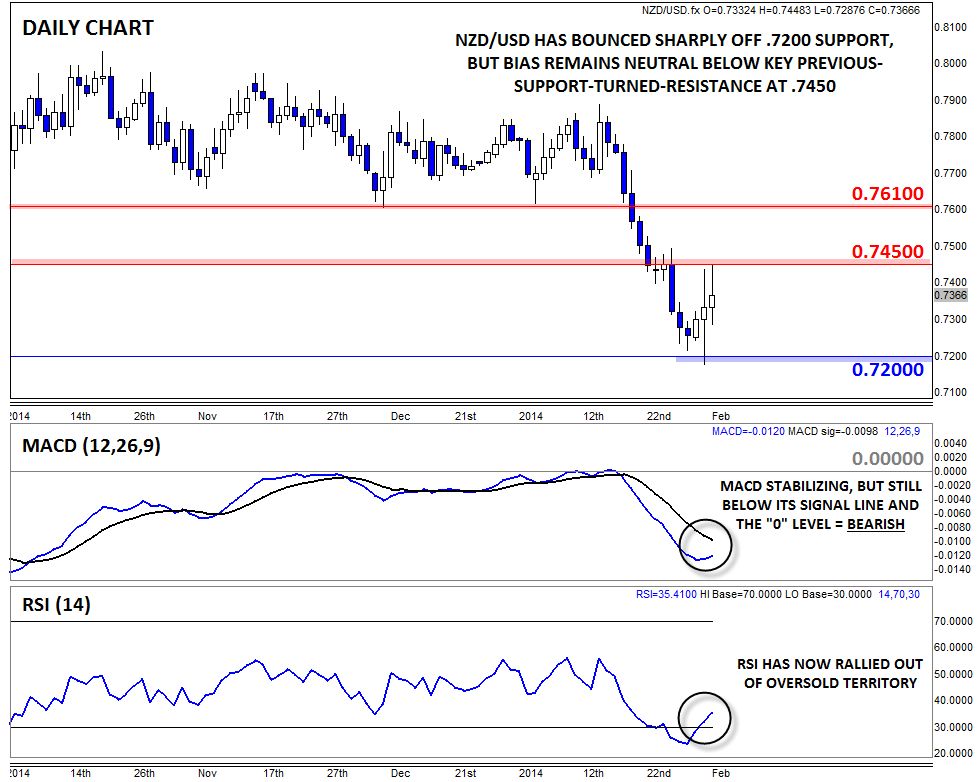 Source: FOREX.com
For more intraday analysis and market updates, follow us on twitter (@MWellerFX and @FOREXcom)