GBPAUD has been surging forward over the last couple of weeks on the back of strong economic data out of the UK and widespread AUD weakness. The aussie has been stung by the RBA and softening perceptions about China's economy. The ensuing rally in GBPAUD has pushed the pair over 1000 pips higher in just over 2 weeks.
However, the technicals appear to lining-up against the pair, at least on some time frames. On a daily chart there is bearish divergence between price and RSI which is backed up by a possible rejection at the top of GBPAUD's long-term upward trend. Overall, this seems to point to a possible sell-off in near-term. Although, this possible bearish scenario would be negated if price were to break through the top of its long-term trading channel (see chart).
In the event that price does begin to falter a confirmation of a possible bearish leg in price may come from a break through a prior high around 1.9320. From this point price may head towards the bottom of its long-term trading range.
Eyes on the BOE and the RBA
No matter what the techs are saying it would be unwise to ignore the fundamentals with the BOE meeting tonight. As my colleague Kathleen Brooks explained overnight, we aren't expecting the BOE to announce any policy changes this time around, but there's always the chance the MPS will move the pound. On the other side of the equation, AUD traders are waiting for the release of the RBA's quarterly MPS tomorrow, which will provide updated inflation and growth forecasts following the bank's decision to re-enter dovish territory on Tuesday.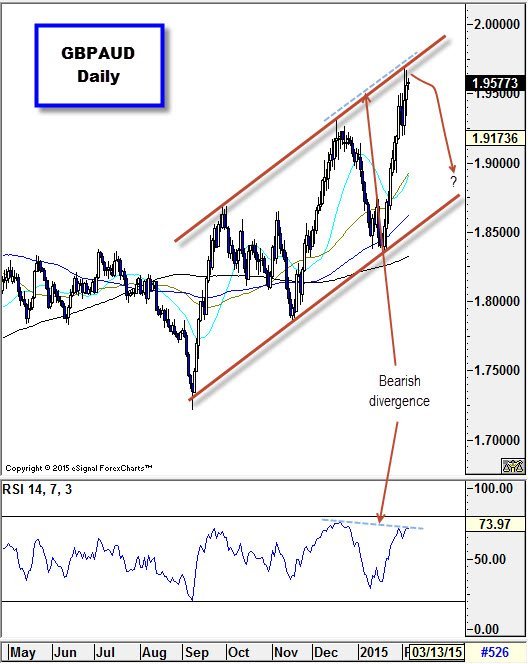 Source: FOREX.com