In our special Greek election preview report, we highlighted three possible outcomes from the election: a defeat for the anti-austerity Syriza party, a Syriza victory with conciliatory rhetoric toward Greece's creditors, and a Syriza victory with a more confrontational approach. By now, we all know that Syriza won a sweeping victory, but euro bulls could still take solace in the generally constructive comments from Syriza leader Alexis Tspiras. Unfortunately, that optimistic perspective abruptly changed over the weekend.
Ahead of Wednesday's high stakes European finance ministers meeting, Tsipras promised to raise the minimum wage, rehire laid off public workers, cut taxes, and provide free food and electricity to poor households; in other words, Syriza is standing by its anti-austerity pre-election positioning, much to the chagrin of its creditors. Tsipras also requested a bridge loan to buy time for further negotiations, rather than an extension to the current bailout funds.
The market's reaction to this weekend's speech suggest that a Grexit scenario is definitively back on the table, with the euro gapping lower, Greek stocks falling over 5%, and Greek 10-year bond yields rising to 11%. Even Alan Greenspan, the august former Federal Reserve Chairman, declared that it was "just a matter of time before everyone recognizes [Greece leaving the euro] is the best strategy." For what it's worth, the Syriza party has not publicly discussed leaving the eurozone, but traders remain on edge and prefer to shoot first and ask questions later.
Market Reaction: EURUSD
As noted above, EURUSD gapped down under last week's low at 1.1300 to start this week's trade. After filling the gap during today's Asian session, the pair has once again rolled over and is testing 61.8% Fibonacci retracement support at 1.1260.
From a technical perspective, there have been a number of bearish developments over the past week. For one, the unit carved out a potential double top pattern at 1.1500 last week, and rates have now dropped below the "neckline" of the pattern at 1.1300. In addition, the 4hr RSI indicator formed a clear bearish divergence at last week's highs, increasing the likelihood that the level marked a significant near-term top. Finally, the pair also broke below its short-term bullish trend line, and that broken support level has now turned into resistance, as evidenced by today's bearish reversal.
Despite the weight of the bearish fundamental and technical evidence, prudent traders may want to hold off for a break of 61.8% Fibonacci support at 1.1260 to confirm the longer-term downtrend has resumed. Buyers and sellers could find a shaky equilibrium around the 1.1300 level for the early part of this week.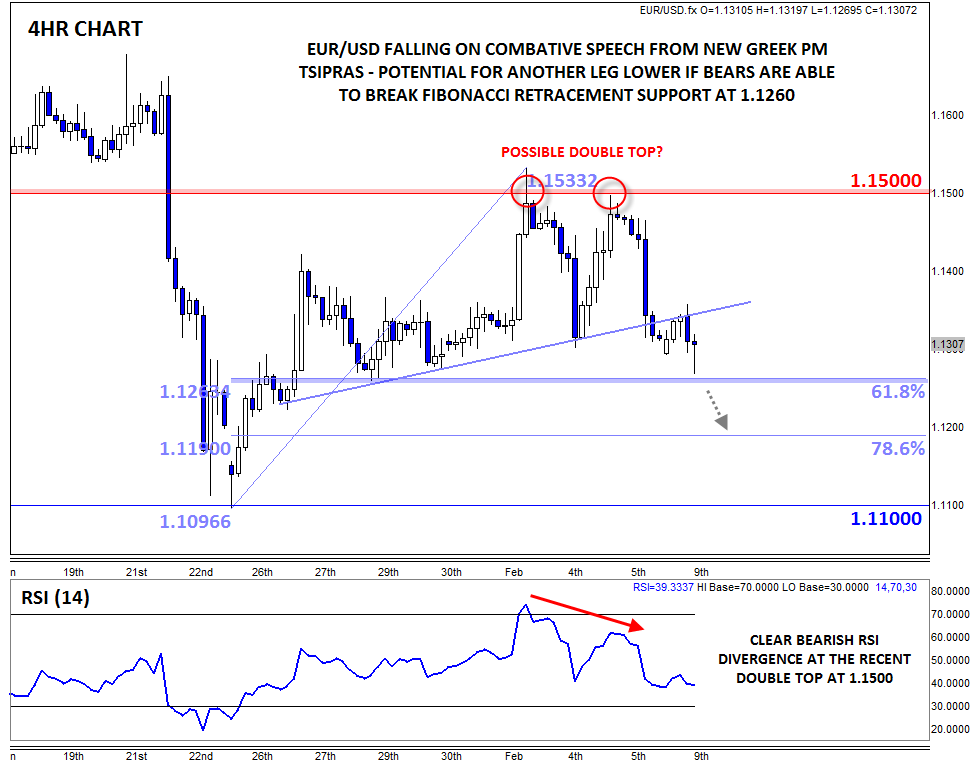 Source: FOREX.com