It's been a fairly quiet start to the week for most G10 currencies, with the dollar broadly giving back some of Friday's post-NFP report gains. Unfortunately (or fortunately, depending on your perspective), most EM currencies have lagged behind even the dollar in today's risk averse markets. For currency traders, there is surprisingly little on the traditional EM economic calendar this week, with some second-tier domestic reports out of South Africa (employment data on Tuesday, manufacturing figures on Wednesday, and a mining production report on Thursday) and Turkey (BOP data on Wednesday) as the only notable releases. Despite the barren economic calendar, there are still two brewing geopolitical situations that demand EM FX traders' attention:
If Ukraine Your Neck, Can You See Peace?
The renewed outbreak of violence in Ukraine over the past couple of weeks has hurt risk appetite and increased the probability of further economic sanctions against Russia. Friday's discussions between Vladamir Putin, Angela Merkel, and François Hollande failed to produce a meaningful plan to end the conflict, but as we go to press, there are rumors of another diplomatic meeting to discuss the issue on Wednesday. A major agreement seems like a long shot at this point, with many points of contention still separating the two sides, to say nothing of the Ukranian rebels themselves. For now, traders are taking the optimistic perspective, with USDRUB falling back down to 65.00 from a peak above 70.00 two weeks ago, but the imposition of new economic sanctions could still erase the ruble's gains instantaneously.
USDTRY: Up, Up, and Away!
The other geopolitical story riling up EM FX traders is the continued tension between Turkey's central bank and the Erdogan government. Over the weekend, Turkish President Recep Tayyip Erdogan blasted the CBRT, accusing the bank of improperly managing currency volatility and insisting that the central bank cut interest rates. We discussed this issue at length last week (see "EM Rundown: Central Bank Independence Threatened in Russia and Turkey" for more), but traders are clearly losing faith in the CBRT's independence, and USDTRY's recent performance reflects that view.
The currency pair rallied another 4% in the last week, hitting new all-time highs above 2.50 earlier today. Rates have since pulled back to 2.4750, but the path of least resistance remains skyward with no overhead resistance. Meanwhile, the MACD bolsters this bullish view as it continues to trend higher above both its signal line and the "0" level. If rates can clear the psychological hurdle at 2.50, we could see a rerun of last January's lira collapse, when the Turkey's currency fell nearly 11% in just two weeks as bulls completely lost faith in the currency.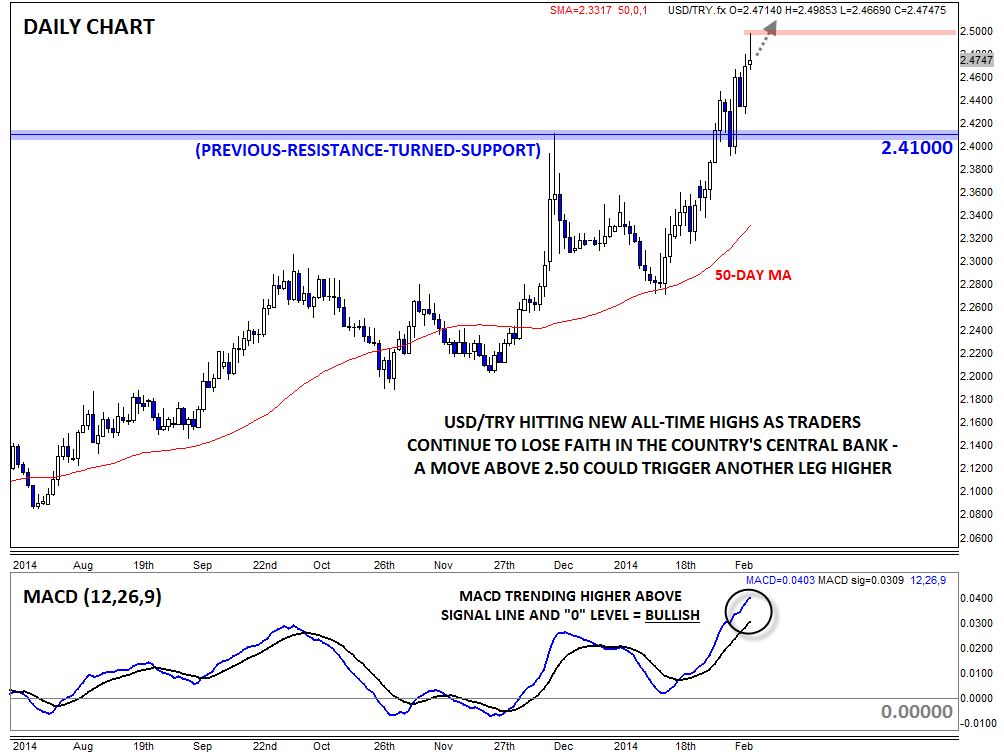 Source: FOREX.com