Crude oil is trading mixed today with Brent being slightly higher and WTI a touch lower. Traders are probably wondering whether the recent rally has any more juice left as they weigh conflicting forecasts regarding US oil output. There is a growing consensus that the recent falls in rig counts combined with sharp cuts in capital expenditure by oil companies will reduce the supply glut and potentially remove it completely by the end of this year. Indeed, the OPEC expects non-OPEC supply to grow by 420 thousand barrels per day (bpd) less this year than it had envisaged previously. As a result, the call on OPEC crude is thus increased to 29.2 from 28.8 million bpd previously. And although the world's leading energy forecaster, the International Energy Agency (IEA), also expects to see a reduction in US shale output this year, the scale of the decline will be "limited in scope" and that this would merely be a "pause." Though the IEA trimmed its long-term supply forecasts, it cut its demand estimates too and warned that lower oil prices will not necessarily boost demand growth as strongly as it might be expected. Meanwhile it appears like China has already taken advantage of the lower oil prices to top up its strategic reserves. Data over the weekend revealed that oil imports in China were reduced by 8% compared to a month ago when crude imports had achieved a record level.  If demand from China falls back going forward then the global supply glut will be reduced at a slower rate and thus prices may remain depressed for longer than would otherwise be the case. In fact, China's latest macroeconomic pointers suggest growth in the world's second largest economy may slow down more sharply than anticipated, as evidenced for example by the sharp deceleration in CPI to 0.8% year-over-year in January from 1.5% in December. Going back to the supply side of things, it is also worth remembering that most of the falls in rig counts have been in vertical rigs which are not the most efficient and also not the ones used to extract shale oil. In shale oil production, they use different techniques including horizontal drilling which are much more efficient. The count in rigs for these types of drilling have fallen only slightly so far, thus crude production may not be cut back as much as the market expects.
From a technical point of view, Brent and WTI crude oil contracts are trading in no man's land and as such our short term view is neutral on both for the time being.
On WTI, the first leg of the recent upsurge stalled around the $54.00 handle, and following a sizeable correction (when it fell to and then found support from the 61.8% Fibonacci retracement level at $47.60) it has had another unsuccessful attempt at breaking above this level. Although the pullback from this $54 resistance level has 'only' been about $2 so far, there is a risk that WTI may have formed a double top pattern here, thus putting an end to the short term bullish trend.  However given the recent volatility, a pullback of $2 is like a drop in the ocean and so this could turn out to be just a pause for breath before prices break out. One way or the other, we will have a clearer technical view on oil prices soon. If the bulls manage to push WTI above the $54.00 handle then they may target the Fibonacci extension levels around $56.00/10 (127.2%) or $58.40/5 (161.8%) next. On the other hand, the bears may win the battle should they succeed in driving prices first below the short-term bullish trend (depending on speed of the drop in prices, assuming they will fall, the trend line comes in somewhere between $50 and $51) and then the psychological level of $50 a barrel.
Meanwhile Brent came to less than 50 cents shy of hitting $60 a barrel yesterday before the sellers stepped in and drove prices lower.  As such, it failed to close above the key $58.50 resistance level for the third time of asking. Unless the buyers recapture this level and hold above it, there is a chance Brent will drop further lower, particularly if short-term support at $57.50 is broken. The medium term bias would turn bearish on a break below key support at $53.00. Alternatively, a decisive break above $60 could pave the way for more gains with the next resistance beyond the psychological level not seen until $63.
Figure 1: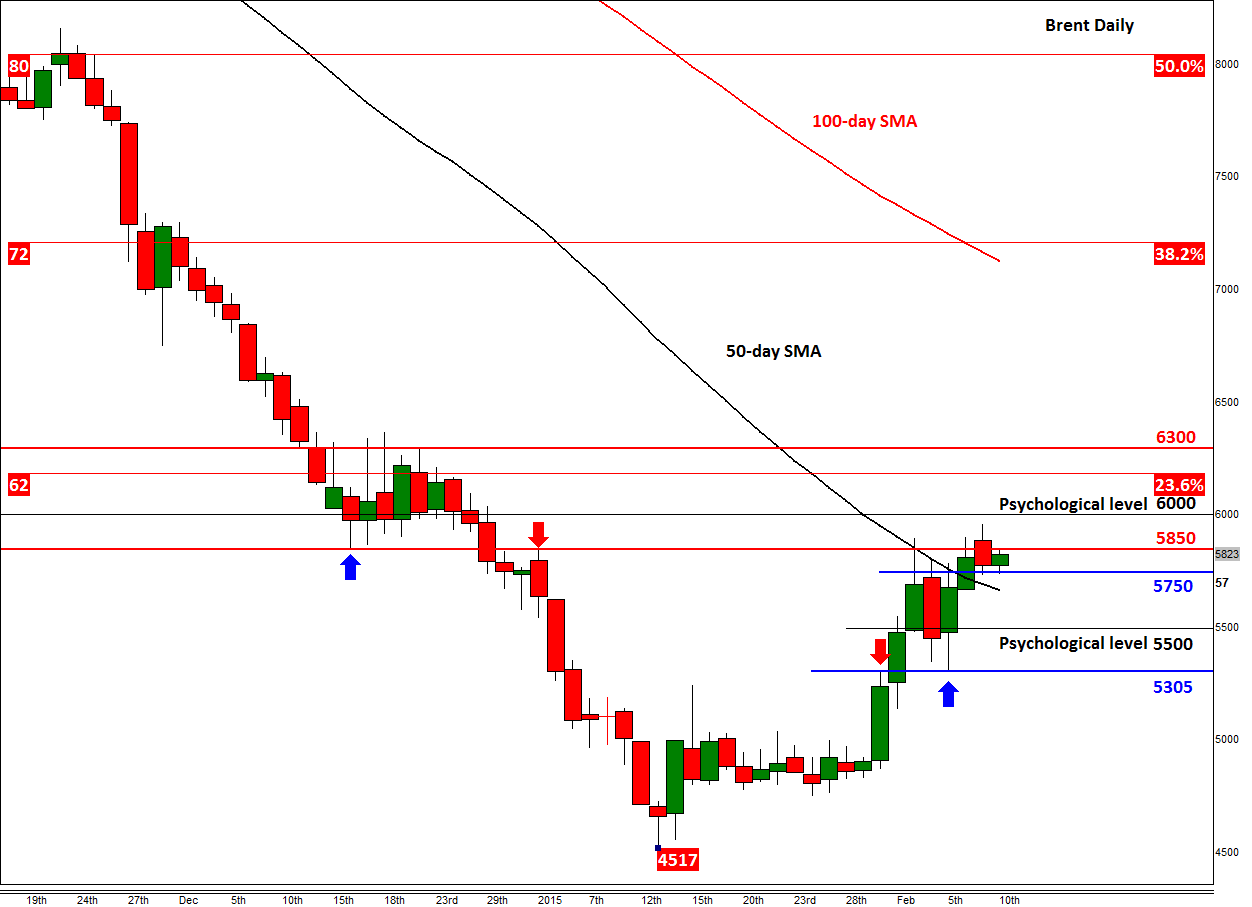 Figure 2: