With the yen under pressure once again, AUDJPY has regained some of the ground it has lost recently on the back widespread aussie weakness. The bulls seized control of the pair after the bears failed to capitalise on a push through the bottom of AUDJPY's long-term trading channel. Is price action going to make a run for the top of its trading channel or beyond? It may be up to aussie bulls…
The recent rally in AUDJPY has been supported more by yen weakness than aussie strength. The possibly of further interest rate cuts in Australia and soft Chinese economic data is weighing heavily on the aussie; AUDUSD remains trapped below 0.8000.
In its most recent quarterly MPS the RBA basically stated that it is going to cut interest rates at least once more by announcing that its assumptions about growth and inflation were based on the market's expectations of where the OCR will be, and the market is looking for at least one more cut. Yet, the overall picture we are getting from the RBA is that it's in a dovish wait-and-see mode, which means it inclined to cut interest rates further but the threat of a property bubble is keeping it very flexible.
This brings us to today's economic data from Australia and tomorrow's labour market figures. Early on in the Asia session Westpac released its Consumer Confidence Index for this month, which highlighted an impressive 8.0% m/m increase in confidence. This puts the index at its highest level in 3.5 years and suggests that optimists now outweigh pessimists. Also, home loans jumped 2.7% in December, beating an expected 2.0% rise. Despite this round of strong economic data, the reaction of the Australian dollar has been fairly muted, which may mean that traders are waiting for the release of January's employment numbers (1130AEST on Thursday).
• Employment change expected -5.0K
• Unemployment rate expected 6.2%
• Participation rate expected 64.7%
• It's also worth keeping an eye on the split between part-time and full-time employment
Technical look: AUDJPY
The rejection of price around the base of its long-term downward channel has provided some room for potential upside. In fact, we may see price bounce to the top of this trading channel given that momentum seems to shifting to the upside, but it would take a lot to break the pair out of its long-term downward channel.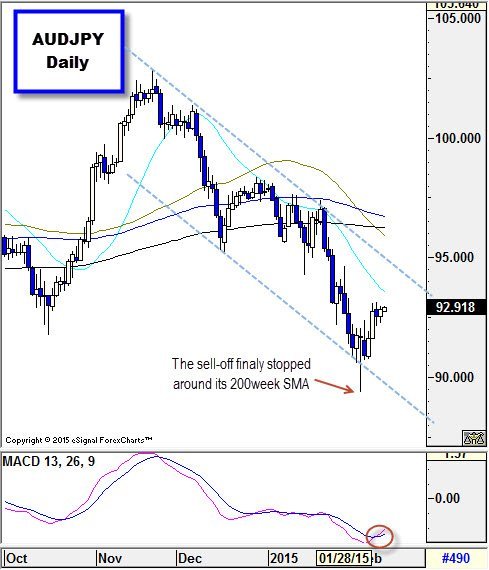 Source: FOREX.com