It has been a good start to the year for GBPAUD as it gets precariously close to an all-important psychological resistance level around 2.000; a zone unseen in around 5.5 years. In fact it has been a very productive couple of years for the pair, after over a decade in a broad downward trend. The resurgence of the pound against the Australian dollar has been reignited this year by a more dovish Reserve Bank of Australia (RBA) and some strong economic data out of the UK.
Encouraging economic figures from the UK have made the pound one of the most attractive currencies in the G10. The data suggests that the UK may have turned a corner this year, which could mean that the BOE resists the urge to reintroduce more stimulus. This is combining with relatively high yields being offered by gilts over other government debt in Europe to drive the GBP higher.
In Australia, the outlook for the economy and interest rates has deteriorated in the early stages of 2015. In fact, the RBA was forced to announce a surprise rate earlier this month in an attempt to flight disinflation. It's not only the softness in the domestic economy that is worrying the RBA, it also the extreme weakness in certain commodity prices and a softening outlook for Australia's largest trading partner, China. A lower exchange rate is helping to offset some of these negatives effects, yet it cannot pick up all the slack.
Tomorrow is going to be a massive day for GBPAUD with the release of the BOE's Quarterly Inflation report and Australian labour market numbers.
Australian labour market data (0030GMT):
• Employment change expected -5.0K
• Unemployment rate expected 6.2%
• Participation rate expected 64.7%
• It's also worth keeping an eye on the split between part-time and full-time employment
BOE inflation report (1030GMT)
The techs
The fundamental differences between these two economies on opposite sides of the world are driving this latest rally in GBPAUD. Yet, from a technical standpoint there are some worrying signals. There is a possible bearish divergence between price and RSI on a monthly chart and price is looking oversold on some timeframes.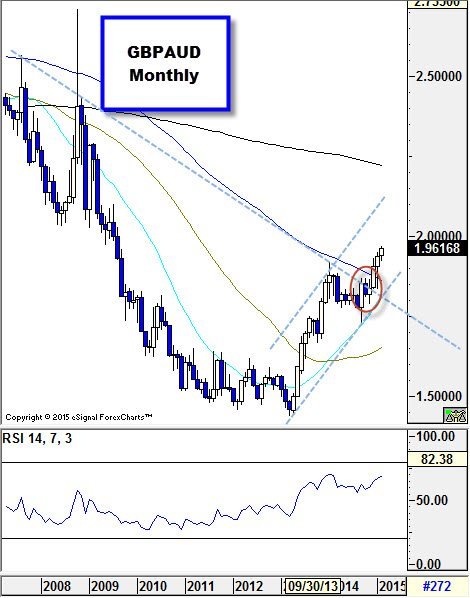 Source: FOREX.com