The sun rises on a new trading day, and with a rising sun comes optimism for a better future. In this case, traders are optimistic that today's Eurogroup meeting of European finance ministers could come to an agreement on restructuring Greece's debt. As my colleague Kathleen Brooks noted yesterday, Greece is in a perilous situation, with the newly-elected Syriza party taking a hard-line stance against drastic austerity measures, despite the fact that its current tranche of bailout funds will expire at the end of this month.
As a result, the stakes are particularly high, but neither side seems to be showing signs of compromising. Already, German Finance Minister Schaeuble declared that there were no plans to discuss a new accord or give Greece an extension to its bailout funds. Even Eurogroup chairman Dijsselbloem, who's been a staunch supporter of coming to a negotiated agreement on the Greek situation, noted that any solution would take some time, dashing hopes of a long-term fix today. Meanwhile, Greek Finance Minister Varoufakis threatened the potential for a Grexit if the other Eurogroup members fail to negotiate seriously: "If you are not willing to even contemplate the prospect of a rupture, then you don't really negotiate." Based on the early headlines, this morning's optimism for an agreement is fading fast though there is still the chance of a short-term solution to avert disaster at the end of this month.
Technical View: EURUSD
Turning our attention to the short-term 1hr chart, EURUSD has actually held up surprisingly well so far this week. As we go to press, rates are forming a near-term symmetrical triangle pattern centered around 1.1300. As we noted with USDCAD yesterday, these patterns can often lead to strong, consistent moves when they finally do break out, though it's notoriously difficult to predict the direction of the breakout in advance.
When it comes to EURUSD, the outcome of today's Eurogroup meeting (and/or tomorrow's EU Economic Summit) presents a clear impetus for a breakout, one way or another. If we see a bullish breakout, ideally confirmed by a corresponding breakout from the RSI indicator's symmetrical triangle pattern, bulls may look to target the weekly high and 38.2% Fibonacci retracement at 1.1355 followed by the 61.8% retracement at 1.1410. If the talks collapse with no agreement of any sort, a bearish breakdown below 1.1275 could open the door for a drop to support in the 1.1190-1.1200 area or even lower in the coming days.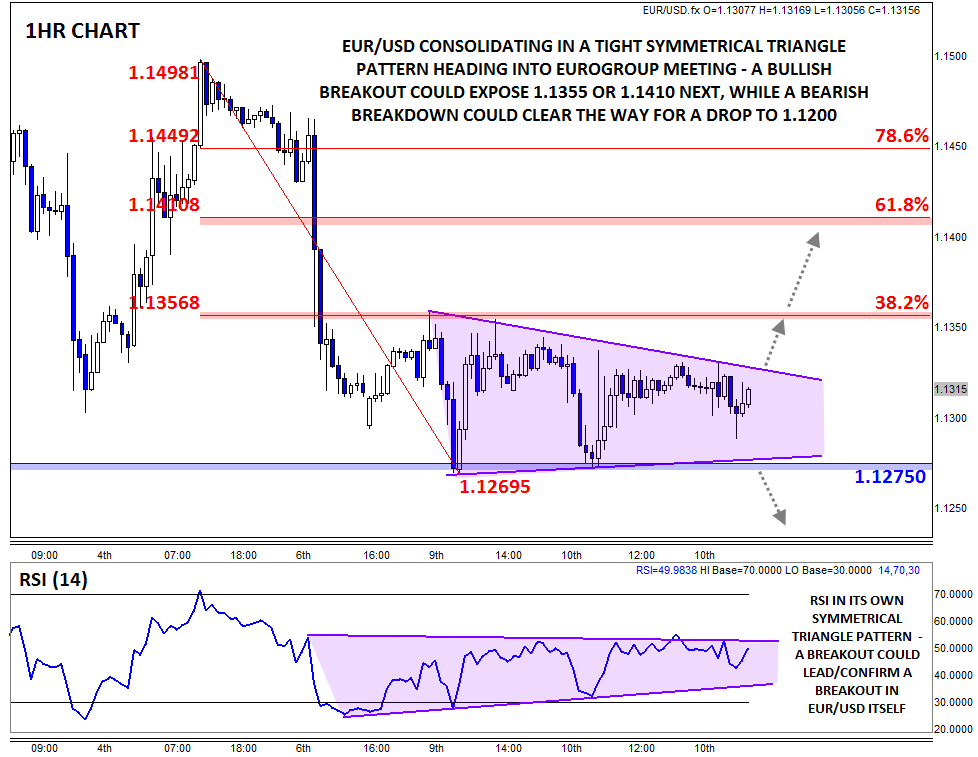 Source: FOREX.com
For more intraday analysis and market updates, follow us on twitter (@MWellerFX and @FOREXcom)