The Australian dollar has been assaulted by sellers following the release of softer than expected employment numbers from Australia. The employment report for January reinforces the RBA's decision to cut interest rates earlier this month and increases the likelihood that the bank will cut rates again in coming months.
Australia's unemployment rate unexpectedly jumped to 6.4% in January (expected 6.2%) from 6.1% in December. The most disappointing part of the report was a loss of 28.1K full-time jobs; part-time jobs jumped 15.9K, bringing the total employment loss to 12.2K (expected -5.0K). After months of volatile employment data the market is questioning the accuracy of today's figures, especially after the ABS released a statement saying that statistical volatility may have contributed to the increase in unemployment.
The RBA is now expected to loosen monetary policy next month
Despite our reservations about the numbers, it was still a disappointing employment report and adds to the case for lower interest rates in Australia. OIS pricing is now indicating that there is around a 70% chance that the RBA will be cutting interest rates again by another 25 bps next month. Prior to the release of January's employment report the market was only pricing in around a 42% chance of a rate cut.
The aussie takes another beating
It's not surprising then that the Australian dollar was sold heaving in the immediate aftermath of the jobs numbers. AUDUSD smashed through 0.7700 and the base of its short-term downward trend and is now finding support around 0.7650. The path of least resistance for AUDUSD still appears to be to the downside, although there are some technical signs that point to a retracement in the near-term. However, we would wait and see if price can break back above prior trend line support (see chart) and resistance around 0.7700.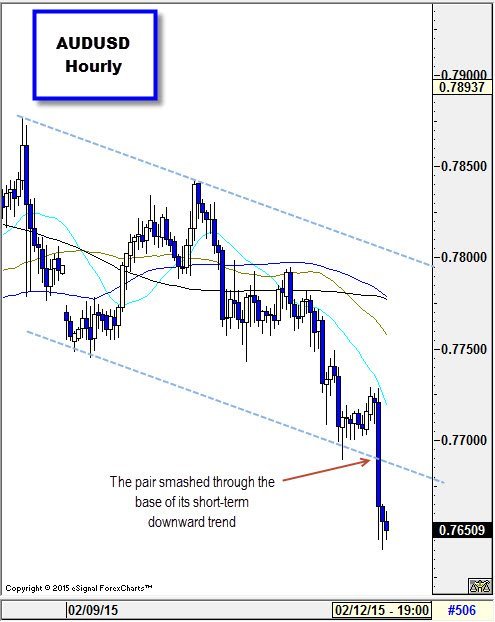 Source: FOREX.com