There are a variety of developments brewing across the world that have created some exciting moves in many asset classes as North America has opened for trade.  From the downtrodden Australian employment report to the upbeat Bank of England Quarterly Inflation Report, markets are getting pulled in every direction.  Commodities, and the currencies related to risk, are rallying, the USD is getting beaten down, the EUR is breathing a sigh of relief, and equities are primarily in the green as well.  Even Sweden is getting in on the action by taking a cue from most of the rest of Europe and hanging out with the NIRP crowd.  All of these headlines are creating plentiful opportunities as many markets settle in to areas of support or resistance.
Another of the market movers over the last 16 hours or so was the Core Machinery Orders out of Japan which rose 8.3% on expectations of only a 2.4% rise.  While that report on its own may have given the JPY some motivation to strengthen, there was also a report from the Bank of Japan that insinuated that they believe further easing would be a counterproductive step.  This evaluation appears to be in completely the opposite direction as what the BoJ has been doing since introducing Quantitative and Qualitative Easing, particularly after their increase back in October 2014.  At any rate, many of the JPY crosses took a dive lower before recovering back to previously established levels, perhaps frustrating many investors who saw their trend lines fleetingly broken.
Of course, that last hyperlink is in direct reference to a CAD/JPY article I posted yesterday that illustrated a rising trend that appeared to be pretty solid, but was thwarted nonetheless.  However, after the dalliance below the trend line, the pair has returned to its previous perch thanks to some decent economic reports out of Canada this morning as well as WTI breaking back above the $50 level.
If oil can maintain its strength as we approach the weekend, and CAD may continue to be a venerable force against most other currencies and could even reestablish its trend in the CAD/JPY despite the momentary lapse.  As the old saying goes, "If at first you don't succeed, try, try, try again."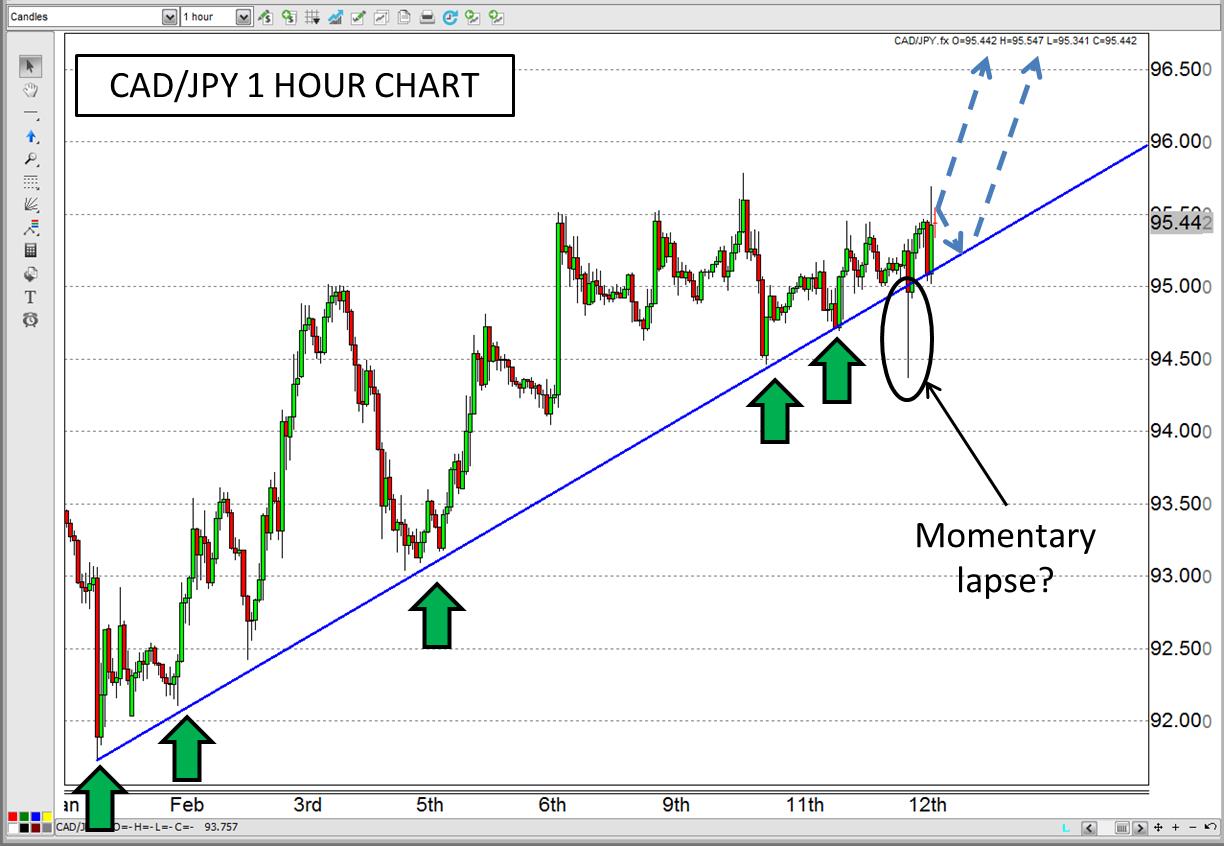 For more intraday analysis and trade ideas, follow me on twitter (@FXexaminer ).