The first month of 2015 was a bad month for NZDJPY. The yen was gaining some strength early in the month but the kiwi was real the driving force behind the sell-off. The RBNZ was surprisingly dovish in its statement following its policy meeting at the end of January, which was preceded some soft inflation numbers for Q4. To put it simply, January was a turning point for the market; it was when the market really began to consider the possibility that the RBNZ may cut interest rates this year. At the time, central banks throughout the world were loosening monetary policy and NZ and Chinese economic data was missing expectations.
NZDJPY bulls overpower the bears
However, this began to change earlier this month with the release of some encouraging economic data from NZ. On the same day that the GlobalDairyTrade Price Index recorded a reassuring 9.4% jump, Statistics New Zealand released an encouraging Q4 employment report. Employment increased 1.2% q/q and people flocked back into the labour force.
This helped to spark a rally in NZDJPY which sent the pair around 500 pips higher at its highest point. However, the rally ran out of steam about halfway to where the aforementioned sell-off began, which also happens to coincide with an important long-term resistance zone (see chart). A rejection here may mean that price is losing upward momentum. In fact, it has already started to drift lower.
Uncertainty has trapped NZDJPY
It looks like uncertainty has killed the pair. The market is still trying to figure what the RBNZ's next move will be and when. There is also the question of whether the BoJ will pump even more stimulus into the economy; we expect the BoJ to hold off in the near-term but if inflation continues to falter in Japan the BoJ won't hesitate to expand its already massive QQE program. With the outlook for monetary policy in Japan and NZ up the air at the moment, NZDJPY has lost its engine and it's no surprise that NZDJPY's retracement has stalled and some techs have turned negative, thus our bias is lower at the moment.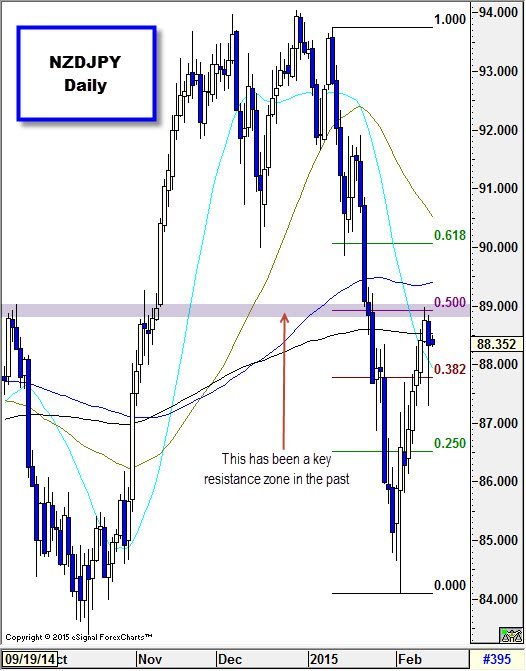 Source: FOREX.com