Since bouncing back in November from a low of around $1131.5 to a high of $1307.5 in January, gold has shed around 50% of those gains in the space of the past few weeks. And despite Thursday's modest bounce, the precious metal looks set to close lower for a third straight week. Gold has come under pressure from various sources, not least due to the lack of safe haven demand because despite the on-going situations in Greece, Ukraine and the Middle East, among other places, the markets have actually been quite calm. Indeed, it looks like investors have actually expanded their holdings of European stocks recently – perhaps even more than the US, with the German DAX hitting repeated all-time highs while the major US indices have only just turned positive on the year. Investors' preference of equities over gold makes sense. For one, interest rates are universally so low that in some countries the central banks have introduced negative rates. They are effectively lending money for free. But in doing so, they have pushed yields on government debt to record low levels. Yield-seeking investors are therefore left with little choice but to either invest in fixed income in countries where the risks are simply too high or in stocks, which unlike gold, also pay dividend. The record low interest rates are likely to stay in place for some time yet and this should in theory help to keep equity prices elevated. News of the cease-fire in Ukraine is also likely to dampen demand for safety, although this is not the first time a cease-fire has been agreed in the troubled nation and unfortunately it may not be the last time either. Therefore, there will be some element of safe haven demand there that may help to underpin gold and other safe haven assets – but probably just not enough to change the long-term bearish trend.
Gold is also considered to be a poor choice of investment in times when inflation is universally so low… such as now. In fact, demand for the metal in the physical form has been weak over the past several years. According to the World Gold Council (WGC), global demand in 2014 totalled 3,924 tons, which was some 4% lower compared to the year before. Demand for gold has now been falling for three consecutive years. Last year, jewellery purchases fell 10%; demand for bars and coins plunged 40%, while industrial demand hit an 11-year low. In China, gold demand totalled 814 tons last year while in India it stood at 843 tons.  India was therefore back to number one in the two-horse race for the title of being the top gold consumer in the world. But in both countries, demand had dropped quite significantly compared to the 2013 levels by a good 38 and 14 per cent, respectively. The main source of support came from the central banks, which expanded their purchases by an additional 17% last year to the highest level in 50 years.  The WGC envisages more central bank purchases are likely this year while it also thinks that the world as a whole will want more of the shiny metal compared to last year. It thinks that total gold demand will increase by 4,100 to 4,200 tons this year, mainly due to increased purchases of Jewellery in China and India.
But at these current price levels, many precious metals miners are still producing gold profitably and as such, the risks remain that the supply of gold will increase again and therefore offset the potential rise in demand this year. Indeed, the WGC estimates that gold mining totalled a record high of 3,114 tons last year. For supply to actually shrink, we think that gold will need to drop below $1000 an ounce and hold there for a good few months.  Unless that happens, the physical market will likely remain amply supplied which should help to absorb any small increases in demand. In any case, the physical market is small compared to the paper market for gold and it is the latter that is chiefly responsible for determining the direction for prices. But as mentioned above, the still-buoyant equity markets and the extremely low levels of inflation are likely to deter investors from purchasing large amounts of gold futures and options for the foreseeable future.  That is of course not to say that gold will not bounce back and put on good showings from time to time. But we feel that the long-term outlook for the metal continues to look bleak, unfortunately.
Meanwhile on the technical front, gold is continuing to trend lower as key support levels break down. We have been tracking gold's decline closely (for example in our reports HERE, HERE and HERE) ever since the RSI reached the overbought threshold of >70 in the second half of January. Once again the RSI correctly projected a downward move in gold, and the momentum indicator is still continuing to trend lower after it broke below its own trend line. The RSI is now just shy of the key 40 level and if it breaks below here too then it would more or less confirm the bearish trend.  
Those who trade gold may be aware – and should be if they are not – that the 61.8% Fibonacci retracement level usually plays an important role in the metal's direction, be in the short, medium or long term trends. To show you what we mean, refer to the weekly chart first and notice how the long-term 61.8% Fibonacci level turned into strong support towards the end of last year. Now turn your attention to the daily chart and you can see that the rally from November also ran out of steam around a 61.8% Fibonacci level (circa $1293). Let's call that one the medium term Fibonacci resistance level. The short-term 61.8% Fibonacci level from the upswing in January is at $1221 while that of the upswing from the November low comes in around $1199/1200. These levels are therefore the two key supports to watch. The former has already been tested and as you can see, it has held firm upon the first couple of attempts, with additional support coming in from the 100-day SMA (~$1216). Meanwhile, whereas the 50-day SMA (~$1230) was previously offering support, this has now turned into resistance over the past couple of days. If gold goes on to break below the $1220 level soon then this time it may also take out the 100-day SMA and make a move towards, and potentially beyond, the next 61.8% Fibonacci retracement at $1199/1200. On the upside, a potential break above $1230 resistance may lead to a rally towards the next resistance at $1240. And if that level is taken out as well then the 200-day SMA at $1250 could be the next stop, ahead of further resistance at $1255 (previously support).
Figure 1: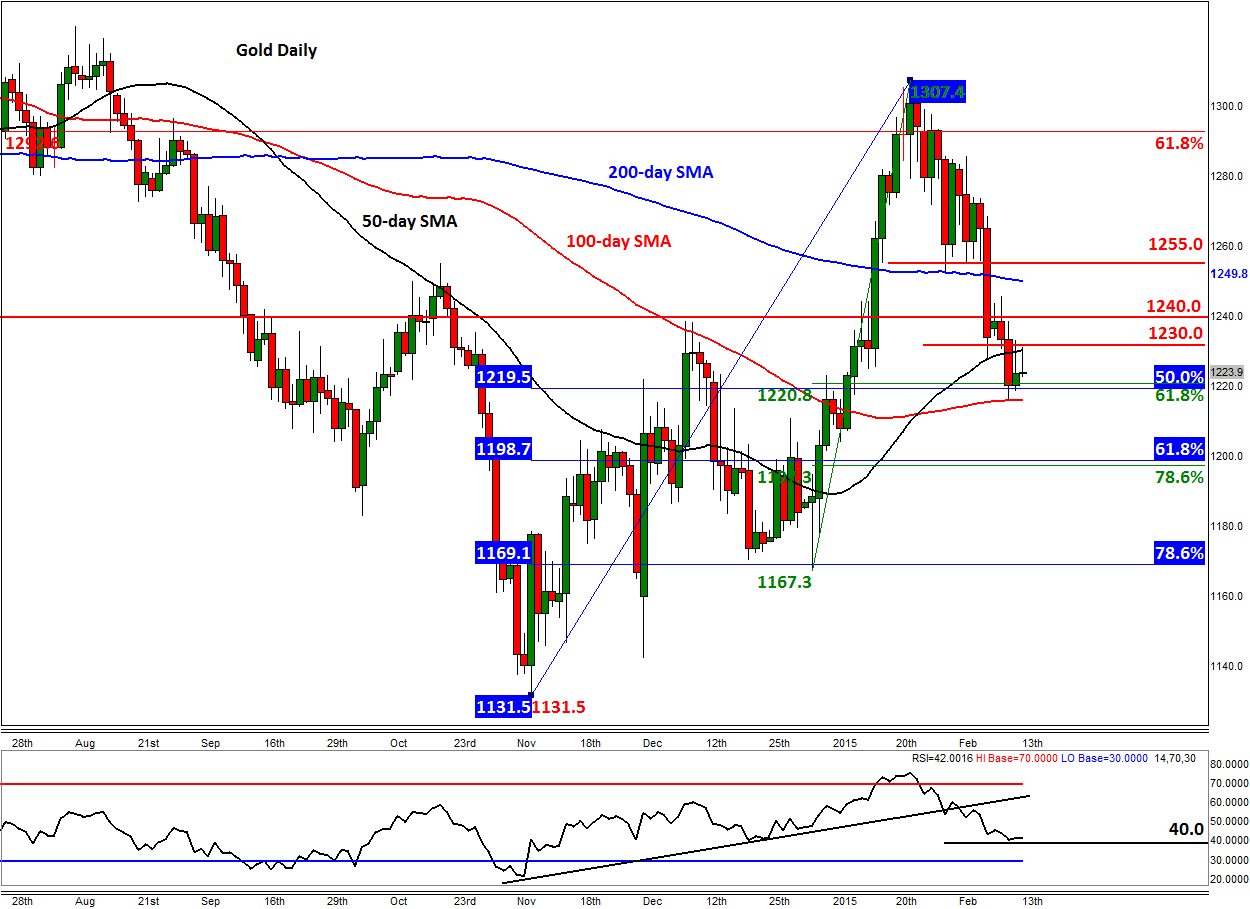 Figure 2: