It's been a pretty quiet week across the board for the world's reserve currency. Despite a weak US retail sales report, another round of Greek drama, a relatively upbeat inflation report from the Bank of England, and a disappointing jobs report from Down Under, the greenback is set to close essentially unchanged against most of its rivals.
The one standout from this week's neutral trend is NZDUSD, which has rallied back above the .7400 handle to test a critical resistance level at .7450. Way back in late 2011 and early 2012, the kiwi put in a triple bottom pattern at the .7450 level, setting the stage for its 1,500-pip rally all the way up to .8825 last year. Last month, the pair sliced back below that key support level on its way down to a fresh 4-year low at .7200.
One of the basic tenets of technical analysis is that a previous resistance level, once broken, becomes a future support level, a phenomenon called polarity. If that principle holds in this case (and to some extent, it already has), the .7450 barrier will be a critical barrier to watch in next week's trade. For their part, the secondary indicators are showing nascent signs of improvement. Though the weekly MACD is still below both its signal line and the "0" level, it has started move sideways over the last few months. Perhaps more convincingly, the RSI indicator has formed a crystal-clear bullish divergence at the recent lows, showing declining selling pressure and raising the probability of a significant bottom forming.
Moving forward, the chart of NZDUSD is relatively clear: As long as it remains below the key .7450 level, the recent downtrend gets the benefit of the doubt, but if bulls can retake that line in sand, a stronger rally is likely on the failed breakdown. As far as the fundamentals go, there are a number of notable data releases to watch next week, including NZ Retail Sales (Sunday night), another Global Dairy Trade auction (Tuesday), and the FOMC minutes (Wednesday), in addition to a number of second-tier reports out of both New Zealand and the US.
By this time next week, traders may have enough information to project NZDUSD's trend for the next few weeks, or even the rest of Q1.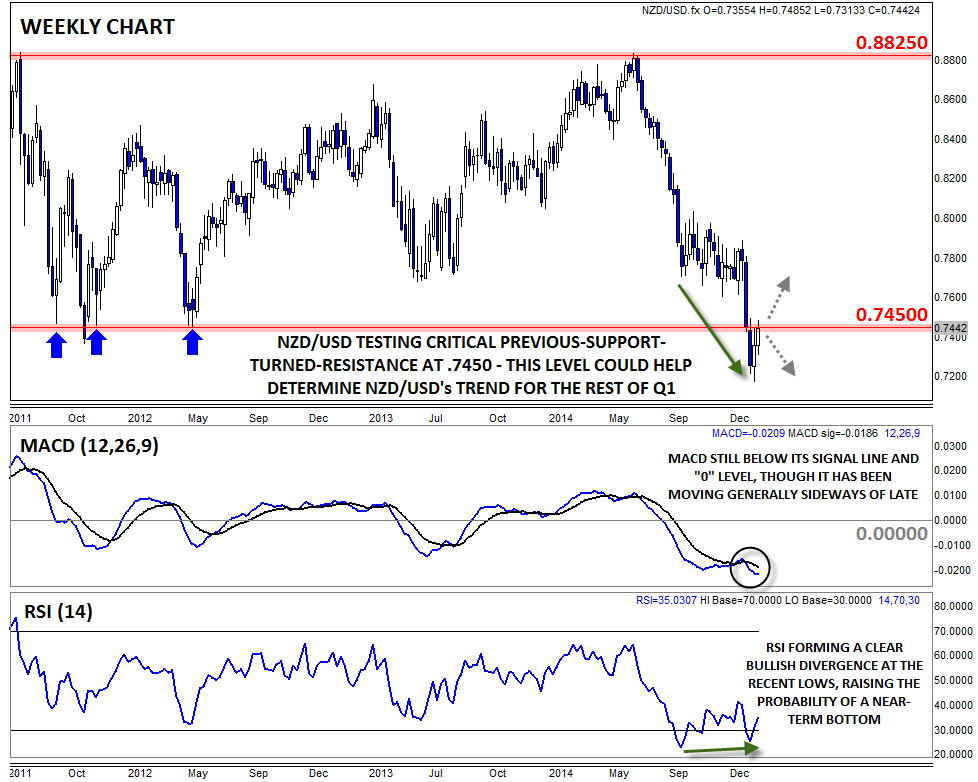 Source: FOREX.com
For more intraday analysis and market updates, follow us on twitter (@MWellerFX and @FOREXcom)