Highlights
---
Technical Developments to Watch:
EUR/USD still consolidating between 1.12 support and 1.16 resistance
GBP/USD broke bearish channel - possible move to 1.5480 resistance in play
USD/JPY essentially in the middle of its 4-month range
 EUR/GBP in play, bias remains bearish below 20-day EMA at .7500

* Bias determined by the relationship between price and various EMAs. The following hierarchy determines bias (numbers represent how many EMAs the price closed the week above): 0 – Strongly Bearish, 1 – Slightly Bearish, 2 – Neutral, 3 – Slightly Bullish, 4 – Strongly Bullish.
** All data and comments in this report as of Friday's European session close ** 
 EUR/USD

EURUSD consolidated early last week before bouncing on Thursday
The MACD continues to trend higher, showing waning bearish momentum
Bulls remain uncomfortable below key previous-support-turned-resistance at 1.1640
EURUSD had a relatively quiet start to the week, with rates merely consolidating for the first three days of the week before rallying a bit on broad-based US dollar weakness on Thursday. For its part, the MACD continued to revert back to the "0" level, signaling waning bullish momentum, though not an outright shift in favor of the bulls yet. Overall, the pair's technical outlook remains the same: the strong selling pressure in the latter half of last year has dissipated, but buyers will remain wary as long as rates stay below the 20-day MA and, more importantly, key previous-support-turned-resistance at 1.1640.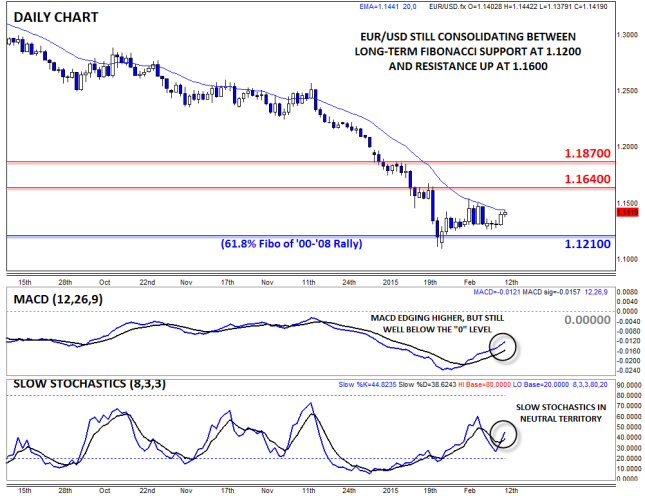 Source: FOREX.com
GBP/USD

GBPUSD surged through its bullish channel to a new 6-week high above 1.54
MACD bullish, though the Slow Stochastics are in overbought territory
Potential for a larger bounce to 1.5500 or higher this week
GBPUSD was finally able to overcome its bearish channel last week, helped along by a less-dovish-than-anticipated Quarterly Inflation Report from the Bank of England. After the clear rounded bottom pattern that formed over the last month, and another clear Bullish Engulfing Candle, further gains are definitely possible over the medium term. As for the secondary indicators, the MACD is about to cross back above its "0" level, though the Slow Stochastics indicator is now in oversold territory. Bulls will be looking for a move up to at least the 23.6% Fibonacci retracement of last year's drop at 1.5480, and if rates can eclipse 1.5500, a larger leg higher is definitely possible.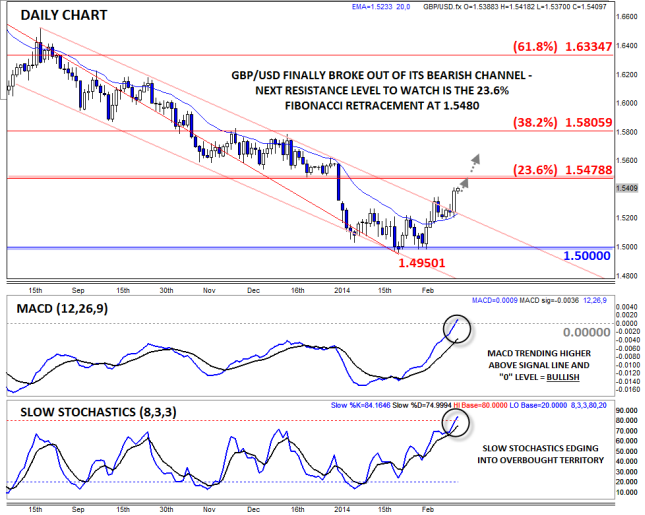 Source: FOREX.com
USD/JPY

USDJPY rallied early last week before reversing back lower on Friday
MACD turning higher, signaling a potential return of bullish momentum
The 20-day moving average could serve as a key bull/bear line in the coming week
USDJPY started off last week on a positive note, rallying above 120.00 before giving back all of its gains on Thursday. Now, the pair is testing the 50-day moving average, which has consistently provided support and resistance for the past couple of months. The MACD is starting to edge higher, suggesting that the bulls may be reasserting control, but we'd like to see a move above the December high at 120.80 before turning outright bullish on USDJPY's medium-term prospects.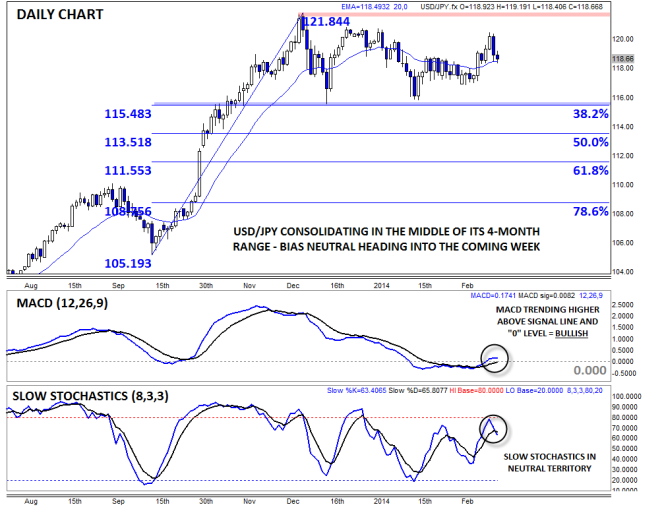 Source: FOREX.com
EUR/GBP

EURGBP dropped to a new 7-year low under .7400 last week
Slow Stochastics now in oversold territory
Key economic data on tap, but technical trend remains lower beneath 20-day EMA
EURGBP is our currency pair in play this week due to a number of high-impact economic reports out of the Eurozone and UK (see "Data Highlights" below for more). Last week, the pair dipped to a fresh 7-year low under .7400 as the Bank of England took an optimistic view on the economy while the potential Greek exit drama played out. For this week, a bounce is definitely possible given the oversold Slow Stochastics indicator, though gains may be limited to the 20-day EMA at .7520 or last week's high at .7600.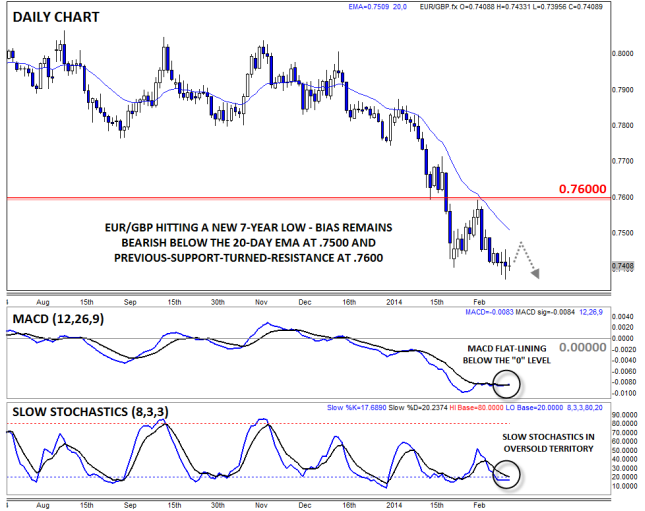 Source: FOREX.com
The Bank of England's (BOE) first Quarterly Inflation Report (QIR) of 2015 painted an upbeat picture of the UK economy. Although BOE Governor Mark Carney admitted that there was a chance that UK prices could fall into negative territory in the coming months, he did not seem particularly concerned about deflation, instead focusing on the upside risks to growth.
After calling this report "relatively straightforward" he went on to say: "The headlines today mask stronger underlying dynamics which will determine UK output and inflation tomorrow." Essentially the Bank is happy with the trajectory of growth and, crucially for monetary policy, the long-term outlook for inflation. The bank revised up its growth forecast compared to the forecast included in the November report, and it also believes that inflation will come back to the 2% target rate within two years, and rising a little further after that.
Interestingly, the ECB may have done the heavy lifting on the policy front for the Bank of England. Mark Carney seemed fairly sanguine about the Eurozone, saying: "Recent ECB actions should provide much-needed support to activity in our largest trading partner." He also didn't sound concerned about the prospect of another flare up of the Greek crisis, saying that even a Greek "dirty exit" from the Eurozone would be manageable for the UK financial sector.
Although the Governor stressed that the Bank could add more monetary stimulus if needed, he was clear that the Bank does not think that more stimulus is needed at this stage. Overall, this QIR report suggests a shift to the hawkish side for the BOE. The BOE's long-term inflation forecast sees prices rising above 2%, which would support the BOE tightening monetary policy. The market has already brought forward its expectations for a rate hike to January 2016 from mid-2016 on the back of the recent pickup in economic data and the QIR. However, if the economy continues to outperform, then the BOE may hike rates before the end of this year.
The GBP effect
The pound rose to a 6-week high vs. the US dollar on the back of the QIR report. Carney's comments reinforced to us that the UK has the second best economic prospects in the G10 behind the US, which could drive inflows into the pound going forward. Now that another round of stimulus has been more of less ruled out by the BOE, GBPUSD may be able to stay safely above 1.50. Obviously there are political risks around the election to consider, however, for now we remain constructive on the pound.
Adding to the pound's attractiveness is the rise in Gilt yields on the back of Carney's speech. The 10-year yield jumped by more than 10 basis points on Thursday, which is a big move for Gilts and it seems to be following US Treasury yields higher. The chart below shows GBPUSD and the UK-US yield spread. The yield spread could be bottoming after falling since mid-2014. If UK yields start to outpace US yields then we could see further GBPUSD upside.
From a technical perspective the break above 1.5274—the prior high from 6th Jan—was a bullish development that opens the way to further upside. The extension of that rally on Thursday could trigger a move back to 1.5620 in the medium-term: the high from 31st December.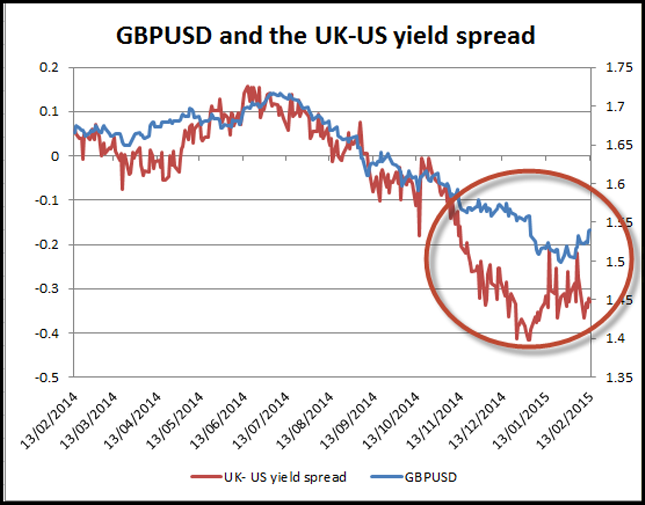 Source: Bloomberg
The EUR was one of the top performers in the G10 space last week even though talks between Greece and the European finance ministers broke down, potentially leaving Greece without a source of external financing at the end of this month.
At the end of last week tempers were starting to flare up. Although Germany's Angela Merkel said that she wants to find a solution for Greece she remained firm that Greece has to stick to the terms of the original bailout. On Friday a German magazine said that the EU thinks that a Greek or Cypriot exit from the Eurozone was manageable. Earlier in the day the Greek finance minister had told the same magazine that he was looking for a haircut for Greek creditors rather than a loan extension.
As you can see, it doesn't look like the rhetoric coming from both sides will result in a successful negotiation anytime soon. Although the ECB has mitigated the situation by extending emergency lending facilities to Greek banks by EUR 5 billion, this is only a short-term solution as Greece needs to pay back approx. EUR 25 bn in principal and interest payments throughout this year.
But even though Greece is teetering on the edge of bankruptcy, financial markets seem unaffected. The S&P 500 hit a fresh record high on Friday, Greek bond yields fell 200 basis points, the Eurostoxx index rose nearly 4% last week, while EURUSD was poised to close the week above 1.14. Volatility has generally been trending lower, and safe havens have lost some of their luster. So is Grexit not such a scary option for financial markets this time round?
We think there are a couple of things to consider:
1. There is still time to reach an agreement. There is more than two weeks until Greece's bailout expires, which means that there are plenty of opportunities to hold all-night summits to finally reach a deal in the nick of time. The fruitless end to last week's meeting kicks the can down the road to the next Eurogroup meeting this Monday, 16th Feb.
2. A delay to proceedings makes a deal more likely. This may sound counterintuitive, but we believe that Greece has more to lose from leaving the Eurozone than the Eurozone does. Thus, the closer negotiations get to the 28th Feb deadline, the greater the chance that Greece may blink and soften some of its demands.
3. Europe has strengthened its institutions since the first round of the Eurozone sovereign debt crisis, which makes the prospect of Grexit less frightening. We also believe that the other peripheral nations have diverged from Greece, and if Grexit does occur contagion would be limited.
Ultimately we believe that Greece will be forced to accept an extension of its bailout, even though the new Greek government may want to spin things differently. After all, the new Syriza government still has a mandate to keep Greece in the currency bloc as 75% of Greece voters want to remain in Europe.
From a market perspective, we may not see the large swings in market sentiment during the upcoming negotiations this week, as the market may have reached a stage of fatigue over Greek debt woes. However, if we move towards the 28th Feb without a deal in sight then the market could lose its nerve. But with 2 weeks until that deadline, the bullish tone to markets as we progress through February may not be disrupted by events in Greece.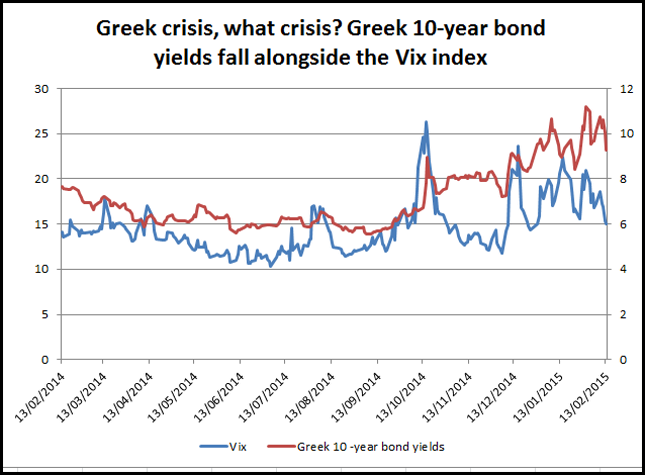 Source: FOREX.com
On Friday afternoon, the S&P 500 hit a fresh record high. This happened minutes before the University of Michigan released its closely watched consumer sentiment index. It showed a surprisingly large drop to 93.6 from 98.1 in January, which was admittedly an 11-year high. This came after data on Thursday showed January retail sales dropped 0.8% month-over-month, while claims for unemployment benefits surged by a surprisingly large 25 thousand applications last week. If such weak data is not able to stop the S&P in its tracks, what can? How about the fourth quarter corporate earnings results? Well, these too have been relatively poor so far. With almost 400 of the S&P 500 companies having reported their results, the annual revenue growth stands at just 1.6% while earnings growth is at 4.2% – both sharply lower from the previous quarters. While on average more companies appear to have beaten analysts' estimates, this is only because the analysts were trimming their expectations leading up to the reporting season. If you take Apple out of the equation, things will have looked even bleaker. Some companies CEOs have blamed the stronger dollar for their earnings results and given that the greenback has continued its upward trajectory in this first half of Q1, results for this quarter may well turn out to be similar to, or even worse than, Q4. Meanwhile going into the weekend, the situation regarding Greece remains unclear. Talks between the Greek finance minister and his Eurozone counterparts this week ended with no agreement. As another meeting is scheduled for Monday, this means that the so-called "Grexit" risk may remain in place for at least the start of next week. That said, the investor sentiment has been soothed by news that a ceasefire has been agreed between Russia and Ukraine, effective on Sunday.
So, against these backdrops, why are US stocks at record highs? We think it is because of the record-low interest rates and expectations they will remain near historic lows even after the eventual first hike that are helping to keep investors in the stock markets. Granted, there have been reports recently that suggest funds are flowing out of the US equity markets and into Europe, where the ECB has recently announced QE. If this trend persists it may mean that the US stocks will underperform Europe, even if the US economy actually continues to outperform. However, with inflationary pressures being almost non-existent across many developed economies, including the US, the Federal Reserve will be in no hurry to raise interest rates. In fact, this week's US economic numbers were rather poor. Although the dollar and equities are unlikely to end their bullish runs on the back of a couple of economic indicators, the outlook may change if the trend of weaker US data continues for some time. But even if the US dollar continues to climb higher this will exert pressure on US exports and also company earnings, which would not be good news for US stocks in the long-term. But in the short term, the weaker economic numbers may push rate hike expectations further out, which can arguably be net positive for US stocks. In any case, we expect to see only moderate further gains for US equities compared to recent times but we are still nonetheless overall bullish.
Indeed, the near-term technical outlook remains bullish for the S&P 500. As we reported last Thursday, the major US indices turned higher on the year following a hiccup in January. The daily chart of the S&P is looking rather constructive after it broke out of a pennant consolidation pattern to the upside last week. But as one would have expected, the index did struggle around the 2070 resistance level (previous high and 78.6% Fibonacci level) for some time before the buyers stepped in around the 2045 support level (50-day moving average and the upper side of the broken trend) on Monday which helped to push the index to a new high for the year. On Friday the S&P momentarily traded at a fresh record high of 2094 as it surpassed its December peak. If the index closes above this level on Friday or early next week then the bulls may target the Fibonacci extension levels at 2125 (127.2%) and then 2165 (161.8%) next. Meanwhile a potential closing break below 2070 would be a bearish development and things could get worse if the 2045 support level is also taken out. As things stand however, the technical outlook looks bullish for the reasons stated above.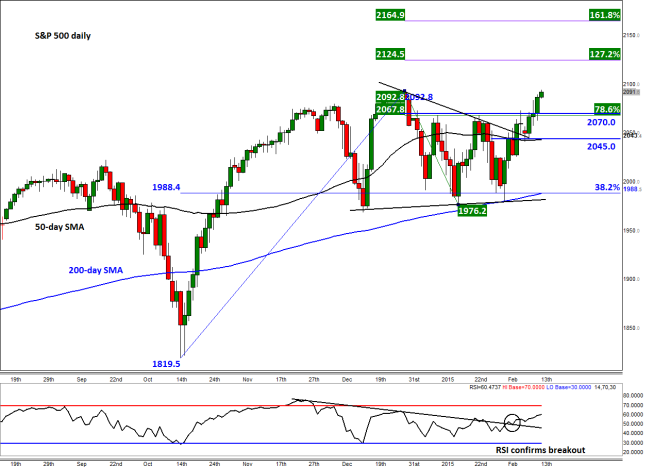 Source: FOREX.com. Please note this product is not available to US clients
Since bouncing back in November from a low of around $1131.5 to a high of $1307.5 in January, gold has shed around 50% of those gains in the space of the past few weeks. And despite the modest bounce at the end of this week, the precious metal looks set to close lower for a third straight week. Several factors have exerted downward pressure on gold, not least the lack of safe haven demand: despite the on-going situations in Greece, Ukraine and the Middle East, among other places, the markets have actually been quite calm. Indeed, it looks like investors have actually expanded their holdings of European stocks recently. Investors' preference of equities over gold makes sense. For one, interest rates are universally so low that in some countries the central banks have introduced negative rates and also QE. They are effectively lending money for free. But in doing so, they have pushed yields on government debt to record low levels. Yield-seeking investors are therefore left with little choice but to either invest in fixed income in countries where the risks are simply too high or in stocks, which unlike gold, also pay dividend. The record low interest rates are likely to stay in place for some time yet and this should in theory help to keep equity prices elevated. News of the ceasefire in Ukraine is also likely to dampen demand for safety, although this is not the first time a ceasefire has been agreed in the troubled nation and unfortunately it may not be the last time either. Therefore, there will be some element of safe haven demand there that may help to underpin gold and other safe haven assets – but probably just not enough to change the long-term bearish trend.
Gold is also considered to be a poor choice of investment in times when inflation is universally so low… such as now. In fact, demand for the metal in the physical form has been weak over the past several years. According to the World Gold Council (WGC), global demand in 2014 totaled 3,924 tons, which was some 4% lower compared to the year before. Demand for gold has now been falling for three consecutive years. Last year, jewelry purchases fell 10%; demand for bars and coins plunged 40%, while industrial demand hit an 11-year low. In China, gold demand totaled 814 tons last year while in India it stood at 843 tons. India was therefore back to number one in the two-horse race for the title of being the top gold consumer in the world. But in both countries, demand had dropped quite significantly compared to the 2013 levels by a good 38 and 14 per cent, respectively. The main source of support came from the central banks, which expanded their purchases by an additional 17% last year to the highest level in 50 years. The WGC envisages more central bank purchases are likely this year while it also thinks that the world as a whole will want more of the shiny metal compared to last year. It thinks that total gold demand will increase by 4,100-4,200 tons this year, mainly due to increased purchases of jewelry in China and India.
But at these current price levels, many precious metals miners are still producing gold profitably and as such, the risks remain that the supply of gold will increase again and therefore offset the potential rise in demand this year. Indeed, the WGC estimates that gold mining totaled a record high of 3,114 tons last year. For supply to actually shrink, we think that gold will need to drop below $1000 an ounce and hold there for a good few months. Unless that happens, the physical market will likely remain amply supplied which should help to absorb any small increases in demand. In any case, the physical market is small compared to the paper market for gold and it is the latter that is chiefly responsible for determining the direction for prices. But as mentioned above, the still-buoyant equity markets and the extremely low levels of inflation are likely to deter investors from purchasing large amounts of gold futures and options for the foreseeable future. That is of course not to say that gold will not bounce back and put on good showings from time to time. But we feel that the long-term outlook for the metal continues to look bleak, unfortunately.
Meanwhile on the technical front, gold is continuing to trend lower as key support levels break down. Those who trade gold may be aware – and should be if they are not – that the 61.8% Fibonacci retracement level usually plays an important role in the metal's direction, be in the short, medium or long term trends. To show you what we mean, refer to the weekly chart first and notice how the long-term 61.8% Fibonacci level turned into strong support towards the end of last year. Now turn your attention to the daily chart and you can see that the rally from November also ran out of steam around a 61.8% Fibonacci level (circa $1293). Let's call that one the medium term Fibonacci resistance level. The short-term 61.8% Fibonacci level from the upswing in January is at $1221 while that of the upswing from the November low comes in around $1199/1200. These levels are therefore the two key supports to watch. The former has already been tested and as you can see, it has held firm upon the first couple of attempts, with additional support coming in from the 100-day SMA (~$1216). Meanwhile, whereas the 50-day SMA (~$1230) was previously offering support, this is now being tested as resistance. If gold goes on to break below the $1220 level soon then this time it may also take out the 100-day SMA and make a move towards, and potentially beyond, the next 61.8% Fibonacci retracement at $1199/1200. On the upside, a potential closing break above $1230 resistance may lead to a rally towards the next resistance at $1240. And if that level is taken out as well then the 200-day SMA at $1250 could be the next stop, ahead of further resistance at $1255 (previously support).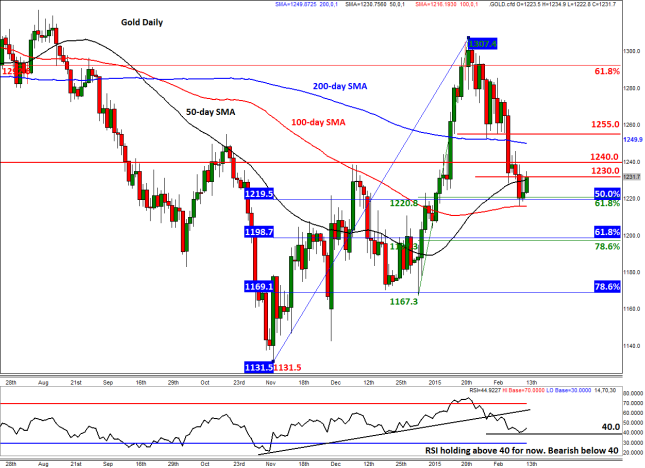 Source: FOREX.com. Please note this product is not available to US clients.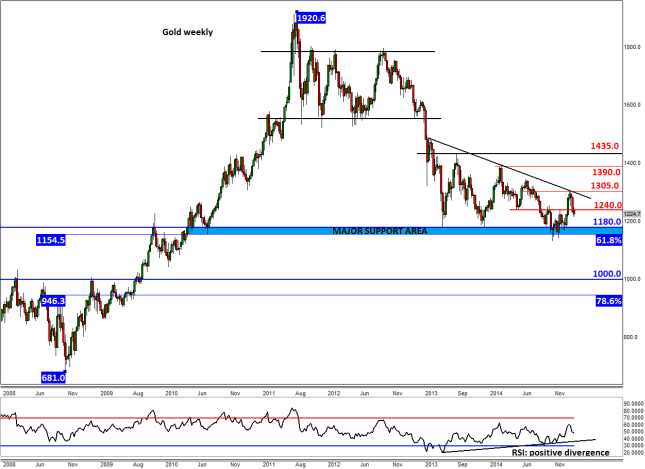 Source: FOREX.com. Please note this product is not available to US clients
Sunday, February 15, 2015
21:45 GMT          New Zealand Retail Sales (Q4)
Unlike the rest of the world, which reports Retail Sales on a monthly basis, New Zealand opts for the quarterly approach. While some would argue that it is more indicative of the actual environment in the region due to the larger sample size, it also tends to provide some more significant surprise as well. The results from Q3 are a good example as this metric rose 1.5% on expectations of 0.8%. This time around, consensus is feeling optimistic with a 1.3% forecast, and that may actually be a bit conservative. Another economic release that measures retail habit out of New Zealand is Credit Card Spending which IS released on a monthly basis, and over Q4 it rose 6.7%, 5.2%, and 4.5%; which combined is stronger than the results during Q3. If this is any indication, the NZD might be surprisingly strong to start the week.
23:50 GMT          Japanese Preliminary Gross Domestic Product (Q4)
The last couple quarters haven't been too encouraging for Japan as GDP has declined in each by 1.8% and 0.5% respectively. The introduction of additional Quantitative Easing from the Bank of Japan may have gotten the ball rolling in the right direction, but this may be a case of having to see it before believing it. A recent report from the BoJ indicated that they believe additional easing may be unnecessary, but an encouraging GDP report may have to accompany that rumor before the market believes it. If this once again fails to show growth, the JPY pairs could make another surge higher as Prime Minister Shinzo Abe may be expected to reach further in to his bag of ideas to stimulate the economy.
Monday, February 16, 2015
All Day                  Eurogroup Meeting
Since there wasn't a concrete agreement this past week in relation to Greek debt, the discussions were tabled to this meeting. Of course, the risk of a Grexit remains in the cards, and who knows, maybe something happens over the weekend before we get to this meeting. Regardless, this meeting will hold a lot of sway over the future opinion of the euro and its viability as a major currency going forward. If nothing comes out of this meeting, nerves could be frazzled and the market may begin to punish the euro.
Tuesday, February 17, 2015
0:30 GMT             Reserve Bank of Australia's Meeting Minutes
These minutes are those related to the surprise interest rate cut from the RBA back on February 2nd, and investors will be looking for clues as to whether more cuts are coming at the next meeting as well. RBA Governor Glenn Stevens has been dovish in speeches after the meeting, but has also emphasized that monetary policy is no silver bullet. If there were arguments to cut the rate by 50 basis points instead of the 25 that they did, the AUD may not fare very well as arguments for a further cut could get stronger.
9:30 GMT             UK Consumer Price Index (January)
Like most developed economies from around the world, inflation is heading lower in the UK. However, Bank of England Governor Mark Carney tempered deflation fears with the BoE's Inflation Report this past week, indicating that falling oil prices were the main culprit, and that it was an example of "good deflation." Consensus is calling for this to fall to 0.3%, but even if it falls further, the BoE, and by proxy the GBP, seems to be kosher with the prospect.
10:00 GMT          German ZEW Survey – Economic Sentiment (February)
To the average observer of the Eurozone, it may appear as if everything is crumbling as Greece is pushing back against their austere and the European Central Bank pledged to throw money at any problem they see. You wouldn't think that though if you were looking at German sentiment which has risen each of the last three months to levels last seen about a year ago. Consensus has bought in to the vibe as well as they are calling for another rise. Judging by past rises and falls, this indicator appears to trend for a while as the last fall from grace exhibited 10 straight months of declining results, so the three straight rises may just be the tip of the advancing iceberg if it follows a similar path.
17:00 GMT          Swiss National Bank Chairman Thomas Jordan Speech
It has been so long since we included anything about Switzerland in these updates, but the SNB have thrust themselves in the spotlight with their floor pulling shenanigans. There have been rumors and innuendos about the SNB intervening in EUR/CHF since their market changing announcement on January 15th, so we can't rule anything out when it comes to Jordan's speech. Who knows, maybe, against all logic, they could reinstate the 1.20 floor in an action that would almost seem as if the SNB is specifically trying to troll traders. While that is highly unlikely, it can't hurt to prepare for ANYTHING when it comes to the SNB, and perhaps just avoid them altogether.
Wednesday, February 18, 2015
Tentative             Bank of Japan Monetary Policy Statement and Press Conference
The tone of this meeting could be dependent upon the results of the GDP release early in the week as it has a profound effect on how QQE is viewed for the BoJ. It has been theorized that Prime Minister Shinzo Abe has a lot of influence on the decisions of the BoJ and if GDP misses, he may suggest to Haruhiko Noda and his banking brethren that they back away from their report that further QQE may not be necessary. However, if GDP is strong, a neutral BoJ may be viewed as hawkish as JPY crosses decline across the board.
9:30 GMT             UK Claimant Count Change and Unemployment Rate
Employment is a vital release in every economy, and the UK could make the argument that they have been doing it almost as well as the US over the last year or so. Over the last year, there have only been three releases that have failed to beat consensus expectations, and the bar is actually being lowered this time around! Watch for another potential good number here with a potential GBP advance as more investors realize that the UK isn't struggling anywhere near as bad as their European neighbors.
9:30 GMT             Bank of England's Monetary Policy Committee Rate Votes
Last month showed us that the two hawks who had been voting for a rate increase over the previous five months returned back to the dove side as inflation wasn't heading in the direction they preferred. They likely won't switch back over the other side again after only having one month's worth of data to view, so there likely won't be much attention paid to this release.
13:30 GMT          US Building Permits and Housing Starts (January)
While these are separate releases, they are highly correlated with each other and typically influence the market in conjunction with one another. Both of them beat their consensuses expectations with over 1M and are expected to do the same once again. If they can repeat the feat, watch for some USD strength heading in to the FOMC minutes.
19:00 GMT          Federal Open Market Committee's Meeting Minutes
The Federal Reserve hasn't been shy about feeling good about the state of the US economy of late. The market is increasingly expecting them to raise interest rates toward the middle of 2015, and the only economic metrics that argue against that thought is the consistently frustrating Retail Sales figures. Since there wasn't a press conference after the last meeting, the minutes will give us the only insight we have in to the discussion they had. If they don't confirm the market's insinuation of imminent rate increases, the USD could suffer.
Thursday, February 19, 2015
15:00 GMT          Philly Fed Manufacturing Survey (February)
The last couple releases for Philly Fed haven't been encouraging as the November 2014 release was ridiculously strong, but has only fallen since. Last month's 6.3 reading was the worst since February 2014, and is heading in the wrong direction. As a consolation, the bar is set low for this release, so it may be easy to clear and open the door for a return back to optimism.
Friday, February 20, 2015
8:30 GMT             German Markit Flash Manufacturing and Services PMIs (February)
Despite the positive feelings of consumers over the last few months, Purchasing Managers haven't been willing to give out as much love. The Manufacturing version is hovering dangerously near the 50 boom/bust level that delineates growth from contraction. If it were to fall below 50, the EUR may feel the pain slightly, but if it rises to the occasion, a depressed EUR could attempt to squeeze some doom seeking shorts out of their positions.
9:30 GMT             UK Retail Sales (January)
As the US version of this economic release indicated, the seemingly never-ending fall in oil took a huge bite out of gas station receipts. However, car travel isn't nearly as vital in the UK as it is in the US, so it may not have as large of an effect. Regardless, consensus is expecting a decline of 0.1% and this release could set the tone for trading on Friday.
13:30 GMT          Canadian Retail Sales (December)
Canada has surprised the market with some of their recent economic releases as most were expecting doom and gloom only to see that they outperformed their depressed expectations. Since this is a release for December, the price action may be a little baked in, but since consensus is calling for -0.3%, the prospect for a beat could be interesting.
Enjoy this newsletter? Use the share button to post it on your favorite site or subscribe to our RSS feed to receive session recaps daily.