The Japanese economy grew a disappointing 2.2% on an annualised basis last quarter, completely missing an expected 3.7% annualised growth rate. This technically means that the recession is over in Japan, but the inner working of the report also highlight that there a lot of challenges ahead for Japan.
Corporate and consumer spending remain subdued and the only real bright spot was the export sector. It's clear that a weaker yen is materially helping Japanese exports which are, in turn, fuelling the economic recovery. Net overseas demand for Japanese goods tacked on 0.2% to growth and looks set to be a major contributor in coming quarters.
Eyes on wages
Falling oil prices are also going to help spur consumer demand by freeing up some cash, but it's unclear when these effects will be felt and it may take a while if consumer sentiment is depressed. The key cog in Japan's economy that needs to begin turning at a faster pace is wage growth. Without wage increases there is going to be a continued lack of activity at the ground level in Japan; making any sustained economic recovery impossible. The good news is that we have seen some encouraging signs from the labour market in recent months and Abe is really pushing for companies to raise wages.
Market reaction
Even though the data came in significantly below expectations, the Nikkei rallied on the back of it and the yen barely moved. One may attribute the rally in the Nikkei to hope that today's numbers will keep the printing press at the BoJ on for longer than currently expected, but the non-reaction of the yen suggests that today's numbers aren't having much of a bearing on the market's expectations of policy loosening from the BoJ (the bank concludes a policy meeting on Wednesday; no major policy changes are expected).
This may help explain why the rally in the Nikkei faded so quickly after today's GDP numbers. The Index is still well above Friday's close but this is due to strong investor sentiment throughout most of Asia. Also, the Nikkei 225 was flirting with 18,000 late last week and this it's a key psychological level for the Index, thus a break here likely attracted a few bulls before profit takers took control. It's not surprising that profit taking is taking the cap of the Index's earlier gains as it's around its highest level in over 7.5 years and today's lower than expected GDP numbers are likely making a few investors nervous.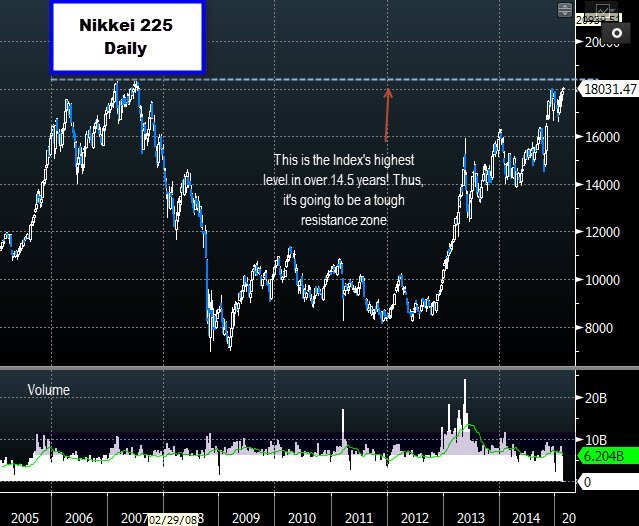 Source: FOREX.com, BLOOMBERG (note: this is a BLOOMBERG chart and may not represent the prices offered by FOREX.com)