US banks are closed today for the President's Day "holiday," though many bankers on the east coast are probably spending more time digging their way out of another frigid blizzard than relaxing. Nonetheless, liquidity is likely to dry up more than usual after today's Eurogroup excitement surrounding Greece. That said, there's still plenty to discuss stateside, including Friday's new 15-year high in the widely-followed NASDAQ index.
As difficult as it is to believe, the index is now approaching lofty levels last seen at the peak of the Tech Stock bubble back in early 2000. Interestingly, the primary catalyst driving stocks higher is the exact ingredient that was missing back in 2000: earnings. According to FactSet, an incredible 88% of technology companies in the S&P 500 have beat their Q4 earnings estimates, and these strong profits are helping to drive the tech-heavy NASDAQ higher as well. The lead dog pulling the index higher is Apple, which closed at a new all-time high above $127 on Friday and represents a staggering 10% of the entire index, but the world's largest company is getting plenty of support, especially from online giants like Netflix and the perennially-unprofitable Amazon. Six weeks into the year, the NASDAQ ( 3.3%)  is still outpacing the more popular Dow Jones Industrial Average ( 1.1%) and S&P 500 index ( 1.9%).
Technical View: NASDAQ Composite
As of Friday's close, the NASDAQ is just 3.1% below its all-time high at 5048; given its recent strength, the index could reach that psychologically significant level later this month. With the S&P 500 already at an all-time high near 2100 and the DJIA within just 0.2% of its highest level ever, record-focused traders may drive the NASDAQ higher to play catch-up.
Looking to the chart, the index appears to be accelerating out of a 3-month consolidation below 4800. The MACD indicator supports this view, signaling bullish momentum by trending higher above both its signal line and the "0" level. Meanwhile, the RSI indicator is breaking out above its own resistance level and could still rally further before reaching overbought levels. At this point, the NASDAQ is starting to look like it may have a date with its all-time highs at 5048 sooner rather than later. As long as the index holds above previous-resistance-turned-support at 4800, the path of least resistance will remain higher.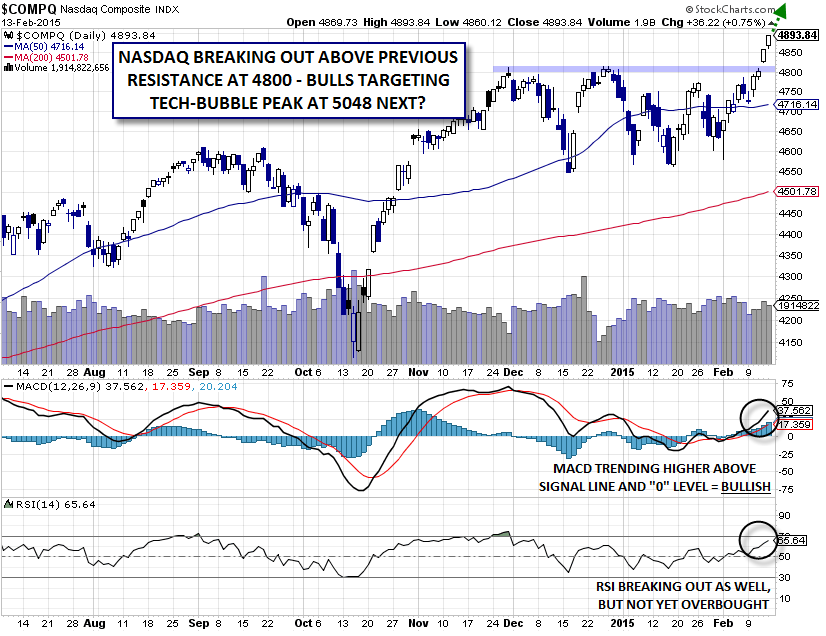 Source: Stockcharts.com, FOREX.com
For more intraday analysis and market updates, follow us on twitter (@MWellerFX and @FOREXcom)