The North American trading session has been extremely quiet so far as the US is out on holiday and Canada isn't scheduled to release anything, so most of the early attention is being directed toward today's Eurogroup Meeting and comments by Finance Ministers whom are attending.  Of course, any significant news about Greece could transform a rather mundane trading session in to an extremely interesting one, but at this point, no one knows exactly when that news is coming or what it would entail.  For that reason, staying away from the EUR may be the best course of action as Wolfgang Schäuble and Yanis Varoufakis test each other's strategic game theory skills.
A currency that is somewhat related to the EUR, but distinct enough to move on its own accord is the GBP.  While being a member of the European Union makes the UK an interested party of the proceedings, they aren't a part of the European Monetary Union, so whatever happens doesn't affect them quite as strongly.  In fact, news out of the UK has been generally positive as the Bank of England seems to be more optimistic about the future and is actively making that point known.  Last week's Quarterly Inflation Report was "relatively straightforward", BoE Governor Mark Carney was upbeat, and this weekend additional policymakers conveyed that they believe low inflation will be temporary and that "the next move on interest rates is likely to be up."
Taking the BoE's stance on inflation, the Consumer Price Index being released out of the UK tomorrow takes on less importance since even if it does come in under consensus, it likely won't change the attitudes of the Monetary Policy Committee.  That gives the GBP a lot of potential to break out to the topside against a variety of currencies, but the GBP/CAD in particular has been following a strong upward trend that has lasted most of 2015 thus far.
Delving deeper in to the technical analysis of this currency pair, the recent pullback from last week's high has formed a triangle that could lead to a strong breakout, and the 50% Fibonacci retracement from the recent significant low to high has held strong as support.  If this forms a classic ABCD type of pattern, the 161.8% Fibonacci extension lies near 1.95, however, a break out of the triangle, and above 1.92, would be needed before it can advance to that level.  Considering the ease in which the GBP has been advancing of late, there may not need to be that much "grease" required to see another turn higher.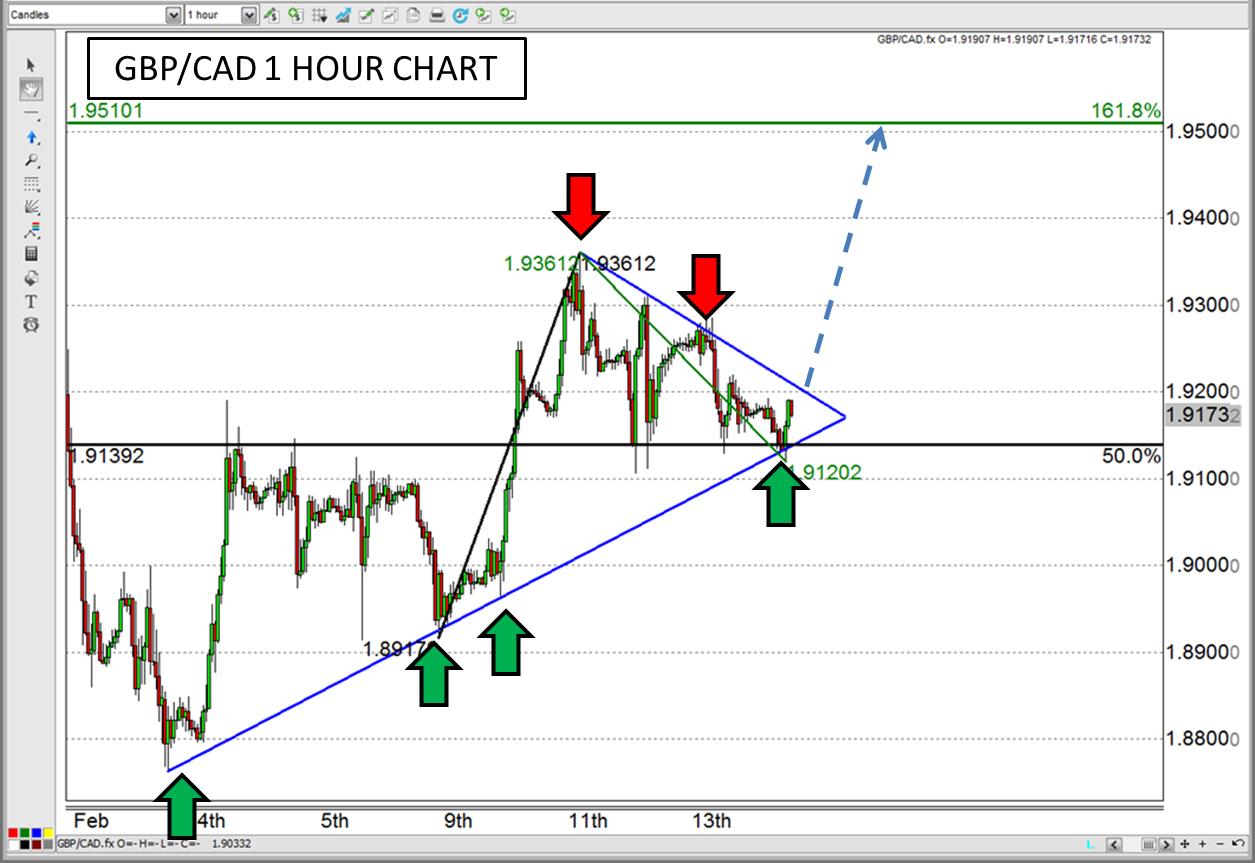 For more intraday analysis and trade ideas, follow me on twitter (@FXexaminer ).